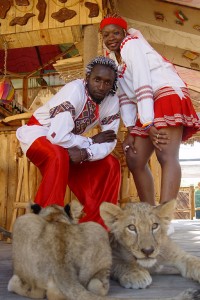 MICHAELL
: as a child I have grown talented in different things. But for sure I loved music dance and drummer. I have loved music since childhood. I seriously got involved in music at the age of 13. I had traveled to Norway for a visit at a college school and it so happened that there was an M.D.D festival and there was this competition of dancing and singing to a song that was in lingala music. It then happened that I was picked to perform and I came out second. So ever since I realized that ma talent of M.D.D needed inspiring and I never wanted to stop it was some thing I never had thought would happen to me. My Mother encouraged me and that is how I got so involved in music.
BECKY
: I loved music I remember I couldn't sleep with out music playing. I was 12 by then I wanted to know every song on radio. My younger sister and I used to sit and talk about being a musician we would sing every time we got to know some new kind of song on radio it was really amazing.
At school I was the head prefect of M.D.D.This helped me a lot because I had the right to all the music instruments. My mother was always a great help especially when we had to travel out to another city she would pack me all the necessary things. I remember it would be war if I was not selected to act, sing or dance I would not talk to any body at home. Anyhow all I can say is I loved music dance and drummer I hated to miss out any thing I loved ma music teacher so much ,she was like a mother to me she taught me that in life we all need to struggle because its not easy. Our motor was little by little an egg will walk.
Now about the historical background of group
Alfa-Alfa
.
This isn't just any name or group. It has come along way. First let me define ALFA-ALFA. This means BETTER en BETTER. This is really beginning to happen at shows, in presentations and organization. ALFA-ALFA has a great definition of life and its inspiration that is why its better-better for all kinds of people. Its not so long that ALFA-ALFA existed. It's just a couple of years. We have changed direction of music and we hope our funs will be with us all the way ALFA-ALFA.
Originally was a group of 4 guys, doing hip hop but due to Common artist miss understandings they broke up. But Michael didn't give up he decided to find one person to help him out and by then I was the closest we talked about it and immediately we started off we didn't want to waste any more time. Now it's a composition of two doing reage, alternative, pop, ragga, and African music. Which is some thing we love . That is Michael and Becky. It's a new experience but our funs love it because we deal with the young and old.
The musical groups or artists that showed us inspiration are Tina Tana and Michael Jackson.
BECKY: I have never missed out anything on any of them especially Britney Spears I adore her style. I remember I used to maim her songs at school.
MICHEAL: Since childhood my name sake Michael Jackson was a very big mark in ma life of music until now I haven't heard any one like him the rest are just compositions of him.
If we would relate our kind of music with others like hip hop etc would say it's nothing like a relationship it's just a message conveyed only in different styles and approach its completely classic. Like we stated its alternative pop raga, but as you know all music has roots blues jazz, rock pop are a huge root to all new day types of music. Any how besides pop, ragga, rap, hip hop, we listen to pure original Jamaican, Indian music, orchestra and lots of alternative from Africa like Lingala and Chinese music etc.
information, photo from
http://www.alfa-alfa.com.ua/index-e.htm