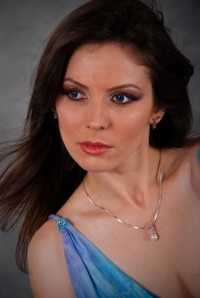 Anytchka (Anna Cheberentchyk) was born in the historic corner of the Western Ukraine, in the village of Swirge near the city of Lviv into a Lemko family. She graduated form the Lviv institute of Arts snd Culture with degree in Choir Conductor. Several years she was a member of choir "Mriya" based in the Lviv Commercial Academy. With the choir she participated in many concerts in Ukraine and abroad. She later enrolled in the Lviv Commercial Academy in the School of Management and is now in her last year of studies.
Her childhood dream was to become a pop singer. Her idols are world famous divas like Celine Dion, Whitney Houston, Barbara Streisand, Mariah Carey, Sofia Rotaru and others. Her goal is to attain the highest level of professionalism in this field and is hoping that her efforts will bring great success as well as attainment of international recognition. Besides her training in many styles of songs and music, she is in love Lemko heritage and ethnic culture. She sang Lemko songs ever since she can remember, most passed on to her from the many generations in her family. Most likely her roots influenced the choice of her first album to be of Lemko songs with a contemporary sound and modern flavor to make these songs unusually youthful, happy, different.
Her creative start exploded in July of 1999 when she took part, with enormous success, in the XVII International Festival "Lemko Varta" in Jdynia, Poland. It is at this festival that Anna showed her true vocation. The public receivedher singigng with great enthusiasm and would not let her leave the stage.
From that time on she became a regular participant at many concerts and festivals. Her songs are regularly heard on local radio stations and have been played on national radio for nearly a year. She made guest appearance on local TV station and has been interviewed in the city Lviv regularly. She also made guest appearances in Kyiv, Lviv, Truskavtsy and other cities.
information, photo from official site: http://www.anytchka.lviv.ua/