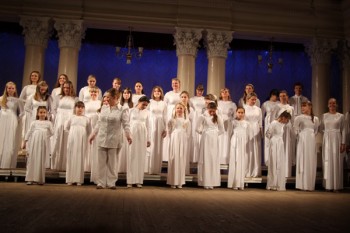 "Vesnivka"
choir was founded on 24 April 1990 by the young talented conductor Zhanna Sosnovska together with choirmasters Kateryna Ystiantzeva and Oksana Tkachenko in the International Center of Culture and Arts in Kyiv.
Conductor  Zhanna Sosnovska, Piano — Dmytro Pivnenko.

Since that time the young singers performed the compositions of H.Purcell, F.Mendelssohn, J.S.Bach, B.Britten, M.Glinka, M.Leontovych and other modern composers. Young performers study actively and develop their talents, travel and take part in concerts, festivals and contests that are hold in the best concert halls of Ukraine and abroad.
Countries, where young artists had concert tours: Ukraine, Republic of Moldova, Hungary, USA, Russia, Estonia, Belorussia, Norway, Germany, Poland, Czech Republic, Netherlands, Morocco.
Public organization "Vesnivka" has been created and registered in 2009. The choir's main purposes are: to make contribution to the study and development of Ukrainian and World vocal and choral music tendencies; to make contribution to musical and creative potential of young people of Ukraine and of the World; to develop the talents and capacities of children and young people; to preserve and promote the Ukrainian and World musical inheritance.
information, photo from the official site: http://vesnivka.ua/en/