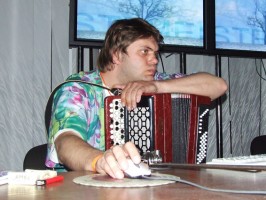 Ukrainian musician
Alexandr Gladun
known as
Dunaewsky69
has bigun to take active part in music since 1997.That time he was making reseach with hard music tendency death metal, grind core, noise core, noise. Had taken part in loads Kyiv projects he together with her school mate decided to create own music formations which were built on noise experiments.
In 1997 was released project Haimorith (DAC Productions label) together with well-known Japanese group C.S.S.O, Alex Gladun play on guitar and Serhej Zhyrikhin drummed.
 1997 project Haimorith. At the heart of stylistic of Haimorith was put funny noise core. At the same time DAC Productions realised their second project Outer Orgasm, there they changed the instruments and music became more tough. There Alex by means of mixing and imposition of bass on noise works reached dirty analog phonation , so he went on working under noise . Simultaneously Alex took part in well known noise core group Basin.
After such experiments in this brunch Alex recorded and released his personal project Dunaewsky on Sososki label . Edition was limited of 107 copy.
From 1997 till 2001 Alex played with brass band on drums. He took part in recording of hits 70-80-yy, jazz works. He took part in different concerts and programms.
From 2001 Alex was in electronic music.He recorded many interesting composition, played in Kyiv clubs Shelter and Cinema, and also took part in I Love Techno`03 festival.
In June 2004 on Moscow label Shaped Harmonics well-known Russian electro musicisian Roman Belousov(Novel 23) released album Dunaewsky69 "Contiguity".
information, photo from official site:
www.dunaewsky69.com.ua