Insight: Gocha Kacheishvili (guitar), Ucha Gugunava (bass guitar), David Abuladze (percussion)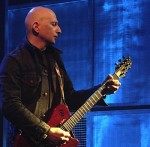 Gocha Kacheishvili, guitarist and founder of Insight. Born May 20, 1965 in Batumi (Adjara, Georgia). Played with: Arbalet (1986-1987), Bedlam (1988-1990), and Vin Sait Quartet (1996). Worked as a designer in the movie Missing (1994-1995) with director T. Tsikaridze, and wrote the music for the show Enchorial (1993).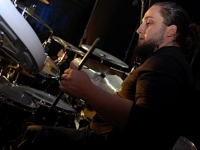 David (Datucha) Abuladze, percussion. Born June 16, 1980 in Tbilisi (Georgia). Began his music career in 1993 as a drummer for Kontrabanda. Later played with: Outsider (2000), Gost (2002), Guliko Janturia Jazz Quintet (2002), and Tatuza Kurashvili Jazz Quartet (2003). Joined Insight in 2003.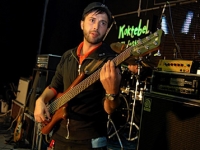 Ucha Gugunava, bass guitar. Born August 28, 1979 in Batumi (Adjara, Georgia). Co-founded Insight in 1996 with Gocha Kacheishvili.
"Insight" is the one of the most successful band in Georgia which achieved world famous status. Band which is touring intensively abroad with lots of gigs and visiting festivals and guests events everywhere where the life streams and being is interesting.
Music the Insight plays is an almost improvised, in their music collective incorporates elements of jazz, rock, Georgian folk, bossa nova and electronics. It's a modern fusion band. Sometimes acoustic, rocky, electronic, with flavor of west coast of marvelous Ajaria, with space sounds and vocoders of leading high range, blissful voice, communicative vocals which is performed here by adorable lady Nino Katamadze, whose voice and free improvising style with a band is the most original thing which is existed today in contemporary music. If you once have a chance to saw them live in Europe or in Georgia, even in Russia or Ukraine, from Siberia to Baltic you will never forget them and the reason is that positive energy, original sound and skillfully playing of each musician, notably bands former superb guitarist Gocha Kacheishvili whose playing is the Intelligence of Guitar, he is the most desirable musician around with whom collaboration means a lot, he is the creative, skillful, provoking, best accompaniator and arranger, also a painter, smartly incorporates new ideas into music and never bewares of experimentalism with the band, he is the real Master and his music is amazing and deserves attention, ear, and comesthrough his free emotions and mood. Sound of Insight. Original member Bass player Ucha Gugunava unique with his style of playing and sound, like Gocha he is well known musician and significant part of Insight, he was a kid when he start playing in Insight and now he is the Great Bass player with solid reputation. In his style he incorporates various elements, his kinetic, monster sound provides band into the deep, unrepeatable range of technique and thinking, all that makes wonder of how it all can do one young men (nice person) with his adorable axe with pair of young drummer David Abuladze (from Tbilisi) who is an almost one of the best, extraordinaire person, he plays acoustic and electric drums, combines both ogether and grooves perfectly. He played with many Georgian musicians and groups and now he proudly drumming in one of the prime groups of Georgia.
It is obvious that group always attracts good feedbacks and since they are together from 2000 with this lineup they record three incredible albums and one DVD.
information, photo from: http://www.nino-katamadze.com/