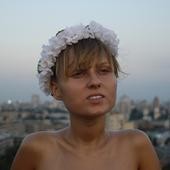 Known for her phenomenal vocal talent,
Katya Chilly
is a blazing star of Ukrainian ethnic music scene. Her creative work is a breathtaking synthesis of ancient Slavic folk songs and modern electronic music.
At the age of 25, Katya has profound knowledge of ancient history. Ancient civilizations interested her so much that she started studying them in depth. Right now she is working on a scientific research paper on the mythology of the ancient Slavs.
Katya Chilly's debut album, "Rusalki In Da House" (Mermaids In Da House), was released in 1998, when she was only 16 years of age. The singer's creative work aroused great interest in the general public and in Ukrainian media.
In 1999, Katya took part in the International festival "Fringe" in Edinburgh, Scotland. In March 2001, she performed at more than 40 concerts in the United Kingdom. A part of her performance was also broadcasted by BBC throughout the country.
Katya's maxi-single "Pivni" was released by Ukrainian Recods in 2005. It included the title track of the same name and remixes made by the best Ukrainian DJ's (DJ Lemon, DJ Tkach, DJ Professor Moriarti and others). On March 10, 2006 Ukrainian Records released the second album of Katya Chilly, "Ya – Molodaya" ("I Am Young").
information, photo from:
http://www.myspace.com/katyachilly
official site:
http://katyachilly.com/