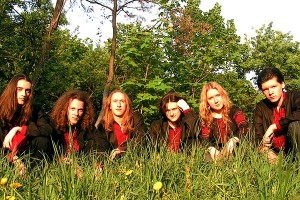 Serhiy Vasylyuk (vocal, bass), Andriy Khavruk (guitar, keyboards), Kyrilo Momot (guitar), Sofia Rogal'ska (violin), Ivan Luzan (bandura), Volodymyr Khavruk (drums).

A few words about Tin Sontsya (Sun Shadow), the band playing folk-metal with some elements of heavy, progressive, power and doom.
The world of Tin' Sontsia is an impetuous flight beyond time. That is why ancient forgotten relics revive in the band's songs. Musicians put their ideology on the first place – spirit of their music is born in the Rus' land: Naddniprianshchyna (Dnieper Ukraine), Polissia... That is why each of you together with Tin' Sontsia can find yourself over the immortal Steppe or in mysterious thickets. Although the album "Nad Dykym Polem" is dedicated exclusively to Ukraine and the most glorious of its historical pages – the Cossacks, the most of the songs, including the new ones, bear the spirit of the whole Rus' (not in the meaning of "Russia", indeed). The best illustration for this is the song "Pisnia Chuhaystra", which in a short term has become loved and respected in Belarus.
Their songs do not contain such obtrusive appeals as "fight aliens!" etc; the band simply revive Ukrainian or even pre-Christian world of the fatherland in its songs. Sometimes we hear the voices of our ancestors ("Kozacha Mohyla", "Vilnym Nebokrayem"), sometimes we dream about the legends ("Hnylhorod"). At times we find ourselves in a mystic world often associated with gothic culture ("Khrestyny Vovkulaky"), and sometimes we just enjoy lyrical songs ("De Zori Nahaduyut' Tebe", "Yiyi Lysh Tin'").
The "Sviatist' Viry" album recorded in 2002 is considered to be the first work of the band. Born in 1999, in 2003 the band proves that it has serious ambitions. It was in that time, when the idea of the "Cossacks rock" appeared. Since then, the band gave about 50 performances across Ukraine, including Kyiv, Rivne, Dnipropetrovs'k, Poltava, Simferopol', Nikopol'… Tin' Sontsia participated in the following festivals: "Fortetsia" (Bilhorod-Dnistrovs'ky, Budzhak), "Starodavniy Medzhybizh" (Medzhybizh, Podillia), "Taras Bulba" (Dubno, Volyn').
In 2004 the band won Grand-Prix at the contest festival "Podykh" (Kyiv), and after that recorded two more albums. They were: official release "Nad Dykym Polem" (2005, publisher – MA "Same Tak!") and demo album "Za Mezheyu" (2005).
At the end of the last year the band launched a parallel project "Zacharovany Svit" (with female vocals, folk-metal as well), and, what is the most important, made its contribution to a tribute album to "Gods Tower" (famous Belarusian band) and was given many approving comments. Now the band works on the new programme "Polumyana Ruta"...
information, photo (author - Bohdana Tkachuk) from official site: http://sunshadow.com.ua/