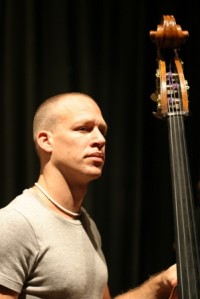 Bassist/Composer/Band Leader
Avishai Cohen
, born April 20, 1970 in Israel, is a musician who has been called a jazz visionary of global proportions by Downbeat, and declared one of the 100 Most Influential Bass Players of the 20th Century by Bass Player magazine.
Cohen is not only renowned around the world as an influential double bassist and profound composer, but also as a visionary bandleader following in the footsteps of Mingus, Dave Holland, Jaco Pastorius, Ray Brown, Charlie Haden, Stanley Clarke, and even Sting. In fact, every move Avishai Cohen makes routinely causes waves of critical praise.
The trio now features Israeli pianist
Shai Maestro
. Since Cohen is an accomplished pianist in his own right, and has performed on bass with such acclaimed jazz pianists as Danilo Perez, Brad Mehldau and of course Chick Corea, it is even more striking to note that Maestro just turned 21. Rounding out the trio is the brilliant drummer
Mark Guiliana
, who has been playing and touring with Cohen since 2003 and who was cited in Modern Drummer's 2007 Readers Poll 2007 as "one of the best up-and-coming stars of today's drumming scene".
Bassist/composer Avishai Cohen was one of the first Israel-born jazz musicians to gain widespread attention in the U.S. Cohen moved to New York permanently in 1992 after studying classical/jazz piano and bass in Israel, (Music & Arts Academy and with Maestro Michael Klinghoffer) and in the United States (in St. Louis).
After attending both the New School and Mannes College of Music in New York City, Cohen performed with fellow students such as pianist Brad Mehldau. His studies with bassist Andy Gonzalez led to his performing in a Latin jazz band that included Abel Rodriguez and Ray Santiago.
As a result of this experience, combined with his deep understanding and love of Latin music and jazz, Cohen got the call to join pianist Danilo Perez's trio. Cohen moved on from Perez's band in 1996 to become a founding member of the legendary Chick Corea's sextet, Origin. Signed to Corea's label, Stretch/Concord Records, Cohen released four CDs: Adama (1998,) Devotion (1999,) Colors ( 2000,) and Unity (2001.)
Until late in 2002, Avishai also worked as a member of the Chick Corea New Trio (the bassist is prominently featured on the 10 DVD boxed set Chick Corea: Rendezvous In New York), and as accompanist to other jazz note-worthies, including Bobby McFerrin, Roy Hargrove, Herbie Hancock, Nnenna Freelon, Claudia Acuna, Paquito D'Rivera and many others.
Avishai has become a first call musician in multiple genres. In 2003 he made a studio recording with pop-soul artist Alicia Keys, and has also performed concert works with the London Philharmonic Orchestra, the Israel Philharmonic Orchestra and The Boston Pops Symphony.
2003 was a busy year for the bassist/composer. In addition to his playing and composing activities, Cohen decided to create his own record label, Razdaz Recordz. The label's first release was Cohen's Lyla, which was followed by At Home, Continuo and As Is…Live at the Blue Note. In addition to releasing Cohen's recordings.
Razdaz released the debut recording of drummer Mark Guiliana's genre-busting band Heernt, Locked In A Basement. In 2008, in addition to Gently Disturbed, Razdaz is releasing I Forgot What You Taught Me from Cohen's former pianist Sam Barsh, and Evolution from guitarist and oudist Amos Hoffman.
information, photo from official site:
http://www.avishaimusic.com/