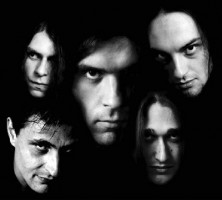 The INWARD PATH band was formed in Lviv at the begining of 1994. The present line up has formed after several changes and now it includes:

Alexander Melnik - vocals
Vitaly Yatsuck - guitars
Yegor Golovachev - keyboards
Pavel Korsun - bass
Grigory Velchev - drums

All these musicants had many years experience of work in other groups well-known in Ukraine. Most of them have spesial musical education. The band toured a lot and participated in various festivals, during its existance. There are four albums released by the INWARD PATH. The first one was recorded in 1994. The material was titled "GOLODOMOR" and was made in the black metal style. In 1996 INWARD PATH signed a contract with GAL Records. And soon there was released their second album - "Antiar", where the band showed their instrumental skills, plaing progressive metal of world class. In 1998 the third album came. It was called "Labyrinth". "Labyrinth" strenthened the position of the band as a leader of progressive metal in Ukraine.In the early September a new INWARD PATH's album - "Citadel"- will be sent for sale in MC and CD formats.
информация, фото с официального сайта:
http://inwardpath.tripod.com/