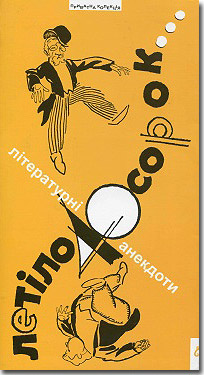 "It is the first time when a publication presents a complete collection of literary anecdotes about famous Ukrainian writers, artists, politicians, art and socio-political events of the 1920-30s. Based on publications in the "40 Magpies Flew" column in Lviv magazine "Nazustrich" (1934-1938). They are organically supplemented with cartoons and caricatures from Lviv humorous and satirical magazines of 1921-1939 "Zyz", "Komar", "Budyak", "Masky", "Zhorna", and others.
Characters of "Magpies"
:
Antonovych, Barvinskyi, Budzynovskyi, Vilde, Voronyi, Holubets, Hrushevskyiy, Ivanets, Karmanskyi, Kobylyanska, Kovzhun, Kolessa, Kotsyubynskyi, Kropyvnytskyi, Kupchynskyi, Kurdydyk, Lazarevskyi, Levytskyi, Lypynskyi, Lutskyi, Lyudkevych, Makovey, Malanyuk, Martovych, Novakivskyi, Ohienko, Oles, Ostroverkha, Pachovskyi, Petrushevych, Rudnytskyi, Samiylenko, Sventsitskyi, Simovych, Slipyi, Sorokhtey, Stefanyk, Taranko, Tverdokhlib, Tyktor, Tuhan-Baranovskyi, Franko, Kholodnyi, Chaykovskyi, Charnetskyi, Cheremshyna, Chuprynka, Shkrumelyak, Yablonska, Yatskiv, and many others."
In Ukrainian
.
Type of the edition: hard cover, dust cover
Format: 146x270 mm
Number of pages: 170, illustrated
Publisher: Piramida, Lviv