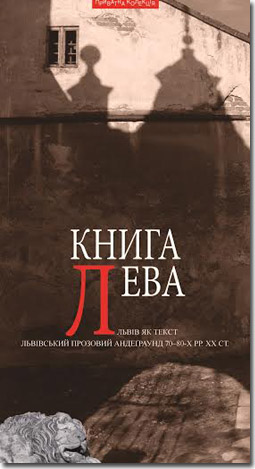 "The anthology proposed to the readers is not meant to be exhaustive – rather it encourages understanding of Lviv as text and presents prose and essays of the second half of 20
th
– beginning of the 21
st
centuries by such original authors as
Roman Ivanychuk
, Andriy Sodomora,
Nina Bichuya
,
Yury Andrukhovych
,
Viktor Neborak
,
Halyna Pahutyak
, Yaroslav Pavlyuk et al., and fully represents
for the first time
Lviv prose underground of the 1970-80-ies – works by
Mykola Riabchuk
,
Yury Vynnychuk
, and Volodymyr Yavorivsky."
In Ukrainian.
Type of the edition: hard cover, dust cover
Format: 146x270 mm
Number of pages: 260
Publisher: Piramida, Lviv
Contents:
- Vasyl' Gabor. Slovo vid uporjadnyka
L'VIV JaK TEKST
Nina Bichuja:
- Portret malen'koji divchynky z cherepakhoju \\ Zemlja \\ Kaminnyy hospodar
Roman Ivanychuk:
- Miy L'viv – u ljudjakh
Andriy Sodomora:
- Kimnata bez tiney \\ Mertva tysha \\ Praesens historicum \\ Fotel' pana Duchaka
Juriy Andrukhovych:
- Misto-korabel' \\ Samiylo z Nemyrova, prekrasnyy rozbyshaka
Juriy Vynnychuk:
- Nichlih: 1583 (z tsyklu "L'vivs'ki lehendy") \\ Beatriche: sutinky, kholod \\ Kit Abel'
Viktor Neborak:
- Deshcho z l'vivs'koji mifolohiji \\ Pro muzyku u L'vovi i pro l'vivs'ku muzyku
Vasyl' Gabor:
- Pro shcho dumaje, shcho bachyt' i chuje ljudyna, huljajuchy mistom \\ Stefanyk-Gasse \\ Vtrata sutnosti
L'VIVS'KYY PROZOVYY ANDEGRAUND 70-80-kh rr. XX st.
Mykola Rjabchuk:
- Nesy sviy nimb \\ Do Chapli na urodyny \\ Lysty aviaposhtoju v provintsiju \\ Tost za zdorov'ja chornoho kota ta inshykh storonnikh osib \\ U temnomu vikni na temnomu foni
Juriy Vynnychuk: - Arkanum \\ Arkanums'ki istoriji:
- Katy i jikhni zhertvy \\ Pro te, jak Ljutsylija navidav smutok \\ Kruk Alojiziusa \\ Stil Ljutsylija \\ Bula spekotlyva lypneva dnyna \\ Chayna istorija \\ Istorija z horbanjamy \\ Pislja vypadku z horbanjamy \\ Shyba kryku \\ Podibni istoriji \\ Topel'nytsja \\ Rujiny \\ Viyna \\ Pokhid kriz' osin' \\ Krov – ljubov
Volodymyr Javors'kyy: Napivsonni lysty z Diamantovoji imperiji ta Korolivstva Pivnichnoji Zemli (L'vivs'kyy tsykl):
- Poranennja u pravu skronju \\ Total'nyy kontrnastup \\ Tryvozhni syhnaly \\ Nevmyrushchyy horban' \\ Te, shcho dovodyt' na viyni do katastrofy \\ Promeni rankovoho sontsja nad ozerom v imperators'komu sadu \\ Nishcho ne mozhe porushyty rivnomirnyy khid podiy \\ Nora, v jakiy mozhna zhyty tsilu zymu \\ Vohon', shcho ynodi spalakhuje, ruynujuchy vsi pereshkody \\ Neshchaslyve kokhannja Arlekina \\ Biy, shcho nikoly ne zitret'sja z pam'jati \\ Teosof ta astroloh \\ Druzhyna prydvornoho dramaturha Venijamyna \\ Vydinnja khudozhnyka Mel'khiora \\ Dyvne kokhannja Ljaury \\ Nedobra zatija pryntsa Osijana \\ Prynts i pryntsesa \\ Shchastja hlukhonimoho Teofilja \\ Nepokhytnist' korolja Rafanajila \\ Za vse treba platyty v ts'omu sviti marnoty \\ Udar, shcho mozhe nazavzhdy paralizuvaty borot'bu \\ Vse ne tak pohano, jak mozhe zdavatysja spochatku \\ Kit korolevy Zisigary \\ Kvitkovyy mahazyn i hotel' "Try nartsyzy" \\ prymkhlyvyy anhelyk kompozytora Avesaloma \\ Kukhar, lebid' i poetesa Ljaura \\ Radisnyy psalom vidljudnyka Jefrema \\ Hnitjuchi dumky likarja Savadoka \\ Stolytsja Dijamantovoji imperiji vnochi
DVI POVISTI
Jaroslav Pavljuk:
- Sad p'janykh vyshen': Iz mis'kykh nastrojiv
Halyna Pahutjak:
- Zapysky Biloho Ptashka: Povist'