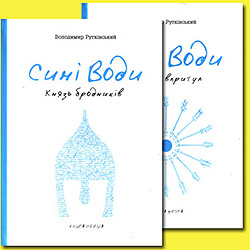 Winner of the "BBC Book of the Year 2011" Award!
"Book 1: THE PRINCE OF BRODNYKS
Year 1361. Following the will of fate, Volyn prince Dmytro Bobrok finds himself in the epicenter of the events that ultimately lead to the battle at Syni Vody – one of the biggest battles in the history of the ancient Ukraine. He manages to survive in the dangerous fight due to assistance from his three daring friends. Along with characters of the novel, the reader not only encounters lots of thrilling adventures, but also finds out who rescued the Lithuanian Grand Duke from an arrow of a hired killer, meets Mamai Khan and visits the ancient Kyiv. And most importantly – makes sure that the desire for freedom overcomes any obstacles.
Book 2: CLOSE ARROWS
Summer, 1362... The burnt Ukrainian steppe gets frozen in anticipation of the imminent battle. Here, closely watching every movement of the enemy, two armies slowly come together: the Ukrainian-Lithuanian one led by the Grand Duke Olgerd, and the Tatar one, led by the brothers Hacibey, Kotlabuga, and Dimiter-Soltan. They met over Syni Vody river. Together with characters of the novel – the three daredevils who lived in the far 14th century, the reader will become a witness and participant of the dramatic events that changed the course of history."
In Ukrainian.
Type of the edition: hard cover
Format: 168x240 mm
Number of pages: 360 +376, illustrations
Publisher: Tempora, Kyiv
Contents:
Knyha 1:
- Z vohnju ta v polum'ja
- Odyn na ostrovi
- Vtecha z ostrova
- U hosti do svata Akhmeta
- Naykrashchyy khlopets' u sviti
- "Znaty, dobra to ljudyna..."
- Mizh zhyttjam i smertju
- Vatazhok Dmytro
- Na poshuky konja
- Knjazhyy znak
- Skhovanka dlja Korshaka
- Kulachnyy biy
- Peremozhnyy klyn
- Svjato
- U Kyjevi
- Zustrich davnikh druziv
- Ol'herd
- Strily z vikna
- Na vuz'kiy stezhyni
- Cherkastsi
- Khovaytesja, Tymku!
- Sutychka
- Peremovyny
- Unyz po Dnipru
- Volodar stepu
- Bilja Chornoho bayraku
- Knjaz' brodnykiv
Knyha 2:
- Slipyy
- Posly kyjivs'koho knjazja
- Slidamy ochakivs'koho khana
- Khan Khadzhybey
- Nad Dnistrom
- Knjazhi klopoty
- Strila vprytul
- Terem knjazja Volodymyra
- Petryk i Tymko
- Imenyny knjazja kyjivs'koho
- Zmova
- Medovukha
- Dorohy
- Zhabokrychivs'ki parubky
- Nad dniprovymy kruchamy
- Rada
- Nazhyvka
- Peredhrozzja
- Urusy pryyshly!
- Pereprava
- Pochatok
- U rozpali bytvy
- Na terezakh doli
- Peremoha
- Vohnyshche v stepu
- Epiloh (zhovten' 1380 roku)