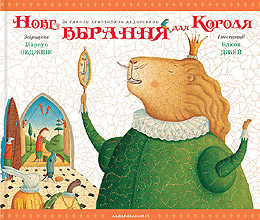 "The vain king is afraid that he lost respect of his people. Suddenly, two otter dressmakers come to the palace and promise unheard garments to the king – a masterpiece of tailoring, due to which they will start treating him with awe. Or even more – such unbelievable garments will also enable him to recognize fools among people... But the plans of the arrogant king will soon fail in the most disgraceful way. Probably, this story will always be actual and modern, the more so – in our country...
This book offers a fresh look at the immortal fairytale by Hans Christian Andersen about vainness and pride – with wonderful illustrations by Alison Jay."
Author: based on Hans Christian Andersen
Verses by: Marcus Sedgwick
Adaptation from English: Ivan Malkovych
In Ukrainian.
Illustrations: Alison Jay
Age group: for little ones from 2 to 102
Type of publication: premium, hard glossy cover, luxurious colored illustrations
Format: 286x246 mm