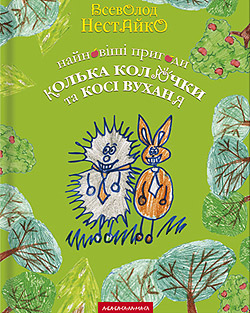 "Some of the parents or relatives may already be acquainted with this fairy tale heroes, as adventures of Sunny Bunny the hare and Miky Spiky the hedgehog began back in 1981, when "The Unusual Adventures in a Forest School" were published in 1981. Next year the book was awarded Lesya Ukrayinka literary prize.
Those who have not read or have read and forgot, I will remind that the adventures take place in a specialised forest music school with the bear language of instruction arranged in the Fairy Forest by Mr Bear Well-Toned Ear.
My restless heroes could keep themselves within the limits of The Unusual Adventures in a Forest School and urged me to write new and new adventure stories, and that's what I actually did... Now you are welcome to the new fairy series. You are their first readers!" Vsevolod Nestayko
In Ukrainian.
Type of the edition: hard glossy cover
Format: 205x260 mm
Number of pages: 160
Publisher: A-BA-BA-HA-LA-MA-HA, Kyiv
Contents:
1. Charivna kvitka Son
2. Tajemnytsja Babaniji Borysivny
3. Treti vukha
4. Sonja-Sonechko
5. Kachechka Krjachechka i Divchynka Khvylynka
6. Berezantiy i Karkaron Karkovorons'kyy
7. Son jizhachka Kol'ka Koljuchky
8. Khvoroba Behemota Hipopotamovycha
9. Telebaba Jaha i Feja Knyzhana
10. Khykhotun Khykhotunovych i Roslynka-Veselynka
11. Sekret Materynky
12. Rajiska Mnjau i Kul'hav Sobachyns'kyy
13. Tsipa i Protychar Ivanovych
14. Shapka Dida Moroza
15. Chaklun-Zhartun-Perevertun
16. Zharko Koljuchka i Tropikan
17. Suchok-Lisovychok i ljal'kar Heras'ko
18. Nespodivanyy svyst
19. Jak my rjatuvaly Khrjusju Kabanjuk
20. Dobroday i Charomriy
21. Frehat "Koljuchka"
22. Marichka-medsestrychka i khvoro-baba Zarazhalija
23. Na balu kvitiv
24. Zakljuchnyy kontsert