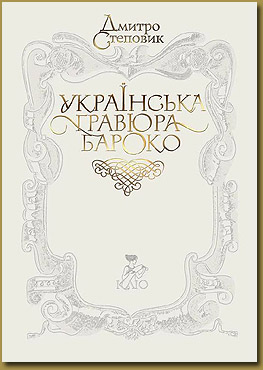 "The book presents examples of works by four prominent artists of the Ukrainian Baroque graphics of the 17
th
and early 18
th
centuries – Olexander Tarasevych, master Elijah, and Leontiy Tarasevich and Ivan Schyrsky – to highlight characteristics of one of the world's art styles of the Enlightenment – the Baroque style. In the 17
th
-18
th
centuries, Ukraine gained the experience unique in Central and Eastern Europe – that of the organic combination of Western European variants of the Baroque style and Ukrainian artistic traditions, and in a broad sense – of convergence of the Orthodox and Catholic aesthetics in works on religious and secular themes. The author thoroughly explores the phenomenon of the Ukrainian Baroque, determines its essential and formal features versus the autochthonous Baroque style in the art of Western countries.
Over 200 illustrations of various engraving types and genres offer an idea about the Ukrainian baroque engraving, in the area of which, besides the four studied most prominent artists of the period, dozens of other engravers worked."
Research publication.
In Ukrainian.
Type of the edition: hard cover
Format: 190x250 mm
Number of pages: 495, illustrated publication
Publisher: Clio, Kyiv
Contents:
- ZOLOTA DOBA BAROKO
- Ukrajins'ke baroko jak prodovzhennja renesansu
- Anhel's'ki kryla Mazepyns'koho baroko
MAYSTER ILLJa (blyz'ko 1600–1670):
- Ranni vyjavy stylju baroko v ukrajins'kiy hravjuri
- Biblija Piskatora i Biblija Illi
- Staryy Zapovit ochyma iljustratora
- Analiz iljustratsiy do Bibliji
- Chesnoty ta hrikhy "vybranoho" narodu
OLEKSANDR TARASEVYCh (blyz'ko 1640–1727):
- Jevropeys'ke chuttja jedynoji rodyny
- Rozarium – barvystyy vinok molytov
- Vid Hlus'ka do Vil'no
- U koli videns'kykh hraveriv
- U Kyjevi
- Shkola Tarasevycha
LEONTIY TARASEVYCh (blyz'ko 1650–1708):
- Svojak Zakarpats'koho jepyskopa i rodych Oleksandra Tarasevycha
- Pershyy videns'kyy period. U sviti symvoliv ta alehoriy
- Pojizdka do Moskvy. U zmijinomu kubli
- Druhyy videns'kyy period. Poshuky doskonaloho
- Vershyny tvorchosti
- Kyjevo-Pechers'kyy pateryk
- Ostanni iljustratsiji
- Spadshchyna A. Tarasevycha y ukrajins'ke baroko XVIII stolittja
IVAN ShchYRS'KYY (blyz'ko 1650–1714):
- Mayster Ivan i monakh Inokentiy v odniy osobi
- Na lytovs'kykh terenakh
- Shcho za ptytsja Feniks?
- Antyminsy dlja Sluzhby Bozhoji
- Al'ma Mater
- Barokova harmonija
Summary
Literatura
Pro avtora