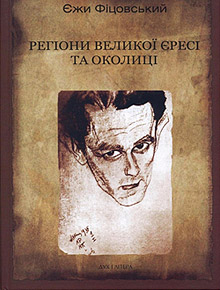 "The great prosaist Bruno Schulz was doomed by time and circumstances to death by a Gestapo bullet and oblivion. However, the Polish poet and literary researcher Jerzy Ficowski (1924-2006) saved the memory about the genius resident of Drohobych, during 60 years tirelessly searching for his earthly traces and interpreting his literary, graphic, epistolary and critical inheritance. This book is a description of this prominent adventure of the spirit, a sort of intellectual detective story, a monument to the multi-cultured environment of Galychyna, irreparably destroyed by nazis and communists. The collection of everything written by J. Ficowski about Schulz is addressed to fans of the 20
th
century literature and art, a wide range of readers interested in humanitarian issues."
The publication was one of the best books of 2010 Lviv Forum of Publishers.
Translation from Polish, notes by Andriy Pavlyshyn.
In Ukrainian.
Type of the edition: hard cover
Format: 164x230 mm
Number of pages: 544
Publisher: DUH I LITERA, Kyiv
Contents:
- Do Chytacha
Rehiony Velykoji Jeresi:
- Ja znayshov Avtentyk
- Bruno, syn Jakuba
- Knyha, abo povernennja dytynstva
- Shul'tsivs'kyy chas, abo mifichna doroha do svobody
- Povernennja do shkoly
- Praistorija ta stvorennja "Tsynamonovykh kramnyts'"
- Fantomy i real'nist'
- Mandry u svit
- Mahija i definitsija
- Epiloh zhyttjepysu
Okolytsi Tsynamonovykh Kramnyts':
- Feretron iz tufel'koju
- Pan Profesor
- Henrijeta i Jakub
- Izydor, brat Bruno
- Povernennja iz nebuttja ta iz zabuttja
- Hra pomylok
- Navernennja u chuzhu viru
- Expose pro Tsynamonovi kramnytsi
- Malyy apokryf "Vesny"
- Fortetsja
- Horyshche na Florijans'kiy
- Vtraty ta znakhidky
- Materialy dlja avtoportretu mifoloha
- Pryhotuvannja do podorozhi
Druha Osin'
Idolopoklonna Knyha
Abetka Vayngartena
Bezimenna Ju [...]
Dejaki Lysty:
- Do Juliana Tuvima
- Do Andzheja Pleshnevycha
- Do Tadeusha Brezy
- Do Zenona Vashnevs'koho
- Do Romany Hal'pern
- Anny Plotsker
- Do Stanislava Ignatsy Vitkevycha
- Do Rudol'fa Otenbrayta
- Do Ljudvika Lilja
- Do Tadeusha Voytsekhivs'koho
V Ochikuvanni Mesiji
Samovydets' I Chuzhotvorets'
Zvorotnyy Bik Avtoportreta
Avtoportrety I Portrety
Zhinka – Idol I Povelytel'ka
Iljustratsiji Do Vlasnykh Tvoriv
Ostanja Kazka Bruno Shul'tsa
Bruno Shul'ts – kalendar zhyttja i tvorchosti
Perelik iljustratsiy
Imennyy pokazhchyk
Tablytsja vidpovidnosti vzhytykh u teksti oryhinalu imen ta prizvyshch
Tekstolohichna prymitka vydavtsja
Prymitky Perekladacha
- Andriy Pavlyshyn "...proshu mojikh Blyz'kykh i mojikh Dalekykh pro blahoslovennja posmishky i lasku pohozhosti dukha"