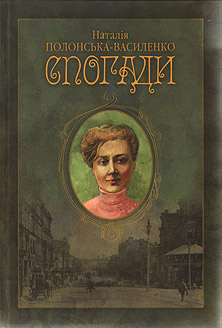 "The memoirs by the famous Ukrainian female historian Natalia Polonska-Vasilenko had an amazing destiny: she started writing them in the times of exile, immediately after the war, and she reached over a thousand pages covering the period from the end of the 19
th
century till the mid-20
th
century. Excerpts from the book were published in various Diaspora editions, and the typescript of the memories elaborated by the author got lost so that she could not recover it herself. Meanwhile, due to a happy occasion, on a paper dump in Munich the earliest section of the memories, the period before the revolution, was discovered. Thus, the compiler of this book undertook to resurrect the lost part of the memories by collecting what was scattered in periodicals. Not everything, sure, he managed to find, but the result appears significant, and now for the first time it is to reach the reader as a book. You can safely state that by the scope and expanse of information, often little known or even unknown, it is one of the best books of memoirs known to the Ukrainian literature. And therefore it cannot but cause a great level of the reader's interest."
Research and fiction publication.
In Ukrainian.
Type of the edition: hard cover
Format: 156x234 mm
Number of pages: 591
Publisher: KM-Academy, Kyiv
Contents:
- Valeriy Shevchuk. Pro "Spohady" Nataliji Polons'koji-Vasylenko
Spohady. ChASTYNA PERShA. DYTYNSTVO (1884-1896)
1. Vstup
2. Miy rid ta moji bat'ky
- Bat'ko
- Maty
3. Ukrajina
- Kharkiv
- Moje dytynstvo (1884-1890)
- Mizh Kharkovom ta Kyjevom
- Kyjiv
4. 1905 rik v Ukrajini
5. Tsenzurovi utysky na Ukrajini (Do istoriji rosiys'koji tsenzury na Ukrajini na pochatku XX v.)
Spohady. ChASTYNA DRUHA (1907-1917)
1. Vyshchi zhinochi kursy
- Profesory
- Slukhachky
- Moja pratsja na kursakh
2. Moja naukova pratsja (viyna, 1913-1916)
3. Revoljutsija 1917: spohady
Spohady. ChASTYNA TRETJa (1918-1965)
1. U Kyjevi v 1918 rotsi (Zi spohadiv pro 26 sichnja (8-ho ljutoho) 1918 r. v Kyjevi)
2. "Velykyy iskhod" (Kyjiv, 1 zhovtnja 1919 r.)
3. Kyjiv chasiv M.Zerova ta P.Fylypovycha
4. Protses "Tsentra Diy" 1924 r.
5. M.P.Vasylenko i VUAN
6. Mykola Prokopovych Vasylenko
7. Zahublenyy rid (Staryts'kykh-Chernjakhivs'kykh-Steshenkiv)
8. Ljudmyla Mykhaylivna Staryts'ka-Chernjakhivs'ka
9. Ostannja p'jesa L.M.Staryts'koji-Chernjakhivs'koji
10. SVU ta VUAN (do 30-littja protsesu SVU)
11. Pro nechyslennykh z-pomizh nezchyslennykh
12. Mykhaylo Jelyseyovych Slabchenko
13. Pro zhaslykh. Ahatanhel Kryms'kyy
14. Akademik Ahatanhel Jukhymovych Kryms'kyy.1871-1941 (Stolittja z dnja narodzhennja ta trydtsjatylittja z dni smerti)
15. Z mojikh spohadiv pro M.Hrushevs'koho (Protses SVU. Smert' i pokhoron M.Hrushevs'koho)
16. Svitliy pam'jati Mariji ta Kateryny Hrushevs'kykh
17. Mykhaylo Mykhaylovych Mohyljans'kyy
18. Oleksander Petrovych Ohloblyn v ochakh suchasnytsi
19. Kyjivs'ki masakry (uryvok zi spohadiv)
20. Dekil'ka spohadiv pro Jurija Klena
21. Try dni odvidyn mytropolyta Nykanora
22. Storinky spohadiv. Ukrajins'kyy Vil'nyy universytet
- DODATOK. Bibliohrafija naukovykh ta naukovo-populjarnykh prats' prof.. d-ra Natali Polons'koji-Vasylenko (1911-1963)
- Imennyy pokazhchyk