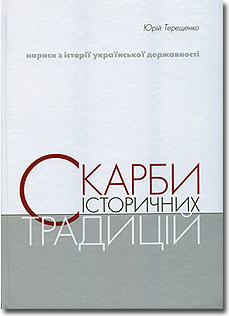 "The book is a collection of articles by the modern Ukrainian historian Yuriy Tereshchenko published in various research journals during the period of 1996-2010, as well as some sections of the monograph "Ukraine and the European World: an essay on the history from formation of Ancient Kiev state till the end of the 16
th
century". Separate articles on the issues of formation and traditions of Ukrainian state development are published for the first time. The author convincingly demonstrates that during the period of its existence, the Ukrainian people expressed itself as an organic part of the European community of nations, which, despite of the complexity of relations, shared the common cultural and socio-political heritage. A number of articles convincingly prove \ the thesis that the Ukrainians have always aspired to live an independent state life, contrary to the attempts to impose the view of their alleged belonging to the so-called "non-state" nations. Many of the papers are focused on works by Vyacheslav Lypynsky – the founder of the statehood trend in the Ukrainian historiography.
The collection is intended for experts in history, teachers and students in humanities, as well as a wide range of readers interested in history."
In Ukrainian.
Type of the edition: hard cover
Format: 168x240 mm
Number of pages: 560
Publisher: Tempora, Kyiv
Contents:
- Pro avtora (F.Turchenko)
1. Ukrajins'ka derzhavnist': osnovni etapy istorychnoho rozvytku
2. Stanovlennja Starokyjivs'koji derzhavy i protses derzhavotvorennja u Zakhidniy Jevropi (VI-IX st.)
3. Khrystyjanizatsija Rusi-Ukrajiny do Volodymyrovoho khreshchennja i jevropeys'kyy kontekst
4. Monarkhichno-dynastychnyy pryntsyp v ukrajins'kiy derzhavniy tradytsiji (VI-XVst.)
5. Ukrajina u skladi Lytovs'koho knjazivstva ta Pol's'koho korolivstva :
- Ukrajina v skladi Velykoho knjazivstva Lytovs'koho (XIV-XVI st.)
- Borot'ba Pol'shchi y Lytvy za Ukrajinu. Velyki knjazi lytovs'ki – intehratory davn'orus'koji spadshchyny
- Rozvynutyy feodalizm v Ukrajini
- Formuvannja burzhuaznykh vidnosyn
- Sotsial'ni protesty v Jevropi ta Ukrajini
- Reformatsija i Kontrreformatsija. Jikh projavy v Ukrajini
- Intehratsija ukrajins'kykh zemel' u Pol's'kiy derzhavi
- Ljublins'ka unija ta jiji naslidky
- Zahostrennja natsional'no-relihiynykh i sotsial'nykh superechnostey naprykintsi XVI st.
6. Sotsial'na evoljutsija kozatstva u druhiy polovyni XVI st.
7. Prychynky do istoriji halyts'koho konservatyzmu
8. Het'man Ivan Mazepa v otsintsi V'jacheslava Lypyns'koho
9. V'jacheslav Lypyns'kyy i Vil'hel'm Habsburh: na politychnykh perekhrestjakh
10. V'jacheslav Lypyns'kyy ta Ivan Franko
11. Evoljutsija monarkhichnoji kontseptsiji V'jacheslava Lypyns'koho
12. Dynastychnyy pryntsyp vlady i natsional'na konsolidatsija v dobu Khmel'nychchyny v otsintsi V.Lypyns'koho
13. Ukrajina i Anhlija v klasokratychniy kontseptsiji V'jacheslava Lypyns'koho
14. Ukrajins'kyy sprotyv asymiljatsiji
15. Sotsial'no-ekonomichna polityka urjadiv UNR doby Tsentral'noji Rady
16. Do 85-richchja Ukrajins'koji Derzhavy
17. Het'manat Pavla Skoropads'koho jak projav konservatyvnoji revoljutsiji
18. Pam'jati M.A.Rubacha