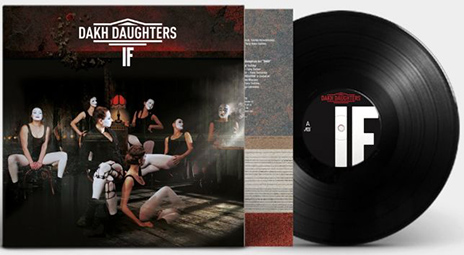 Italian pressing. Black vinyl. Colored art insert included. Mastering for vinyl release by Martin Bowes at the Cage Studios (Coventry, UK). Experimental, avantgarde, jazz, world music, freak cabaret.
Limited edition! 150 copies. Special offer: free shipping (...)
It's not that easy to say if Dakh Daughters' art is rather about music or about theater: the "family" link with DakhaBrakha, Vlad Troitsky, and the DAKH theater matters. At least, when one watches their live performance, it seems that too many nuances would be missed if perceived blinded. But a studio album is a different story, another way and angle of perception, it offers an opportunity to hear, not to see: music balancing on the brink of theater. Due to the art of intonation, which sometimes reaches its extreme and takes a step further – but also due to the art of silence, which only rarely acts as a pause, taking a breath, but mostly it keeps producing supplementary senses. And makes them clash – now, in the course of listening – and it does not stop even then, after what seems to be a full stop. Because silence is something one always carries, and it never really hushes down. Such an entertaining paradox. It is also reflected in the lyrics and in the music. Therefore, it is safe to say that the album is dedicated to the tragifarce – and the title implies: history, as known, does not allow for the conditional mood. But one lives – and the conditional mood is sometimes the only way to attain the unconditional.