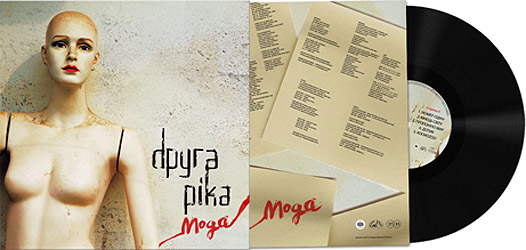 Czech pressing
, 
Vinyl LP
(black vinyl, 140g/cm3, 33rpm). Do not miss the opportunity to become the owner of the iconic album as a collection edition on vinyl!
Limited edition!

NOTE: The price of this item changes constantly – which is why on the website the price indicated is 0.00. Please, find out the current price by writing to info@umka.com.ua
As the previous disc by the group, "Daynight" represented, actually, a collection of the best songs plus one fresh hit – clear thing, fans of Druga Rika were eager to as soon as possible hear a real new album. As known, a traffic accident became the reason of a delay in release of the disc – and of serious reconsideration of the new material. New thoughts, feelings and, as a result, – new texts. That is, they are not just fresh, but also a bit different as compared to those to which we have already had time to get used. Valery Harchyshyn had an opportunity to acquire a refreshed look at life and its values, at creativity and its content – and he did make the best of this opportunity. It seems that here, this has finally happened – that maturing that was ripening in the previous albums by the group. If before one of the main colors was youth romanticism, now its place is gradually being occupied by simple, without fervor, glance in eyes. The same words about love, and death, and sky, and life – but now another sense sounds in them. And this sense, maybe, hurried to be pronounced – as a result, the album does not sound ideally trimmed and slick. It is very good – because there is the feeling of freshness, the feeling of a live talk.