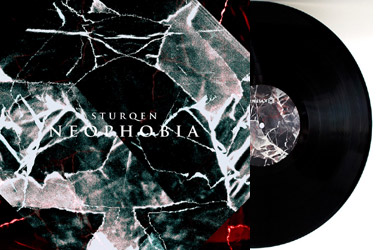 German pressing
, black 140g vinyl. The second vinyl release by the experimental publishing house Kvitnu – and this work is, by the way, created specifically at the request of the publishers..
Limited edition! Special offer: free shipping (...)
Unlike the recent "Luz", the album "Neophobia" offers more aggressive sounding – perhaps, the hardest in Sturqen's discography. But it is quite a paradoxical proposition – unexpected, gentle brutality. Something else looms through the sound attacks: all those analogue noises and surges eventually look as a background for something transparent – invisible but tangible somewhere on the edge of perception. Sturqen seems to be trying to divert attention, to distract the eye – and meanwhile somewhere in the subconscious mind their own, very private, quiet and clear work goes on. That is why – despite all the noise and rhythmic layering – the album leaves a surprisingly thoughtful and light footprint. The inner journey continues and goes ever deeper, and the exterior designs – well, that's the game..