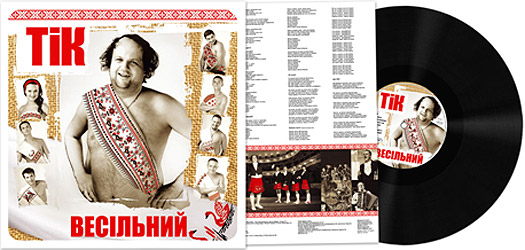 Czech pressing
, 
Vinyl LP
(black vinyl, 140g/cm3, 33rpm). The vinyl edition of the "Wedding" album – that is even more sonorous music and laughter able to generate true celebration of life, even without requiring any significant occasion.
Limited edition!
NOTE: The price of this item changes constantly – which is why on the website the price indicated is 0.00. Please, find out the current price by writing to info@umka.com.ua
The victorious march of the band "TiK" continues – after the nearly three years of silence, they release the third studio album. Such a significant break was caused, apparently, not by laziness. Firstly, the band has already gained such popularity that its tour schedule, we believe, could be many people's object of envy. Recently, they even played a concert at the Palace "Ukraine" – probably, the most pompous concert hall of the country. Secondly, Viktor Bronyuk – the band's front-man – has become what they call a media character. Recently, he could often be seen in various TV shows – and this, sure, also requires time and efforts. However, the new work has ripened – and, as we see, the trademark self-irony is still there. To make sure – the first song from the album will be enough. Though, indeed, the rest of the songs also meet this sort of a definition: irony plus clownery. Need I say that both the first and second are not limited to smiles and jokes, subtle and not too subtle? So, there was a place for a couple of really lyrical songs. Finally, this is how it should be at a wedding – a moment of sadness in the general celebratory rush wave...