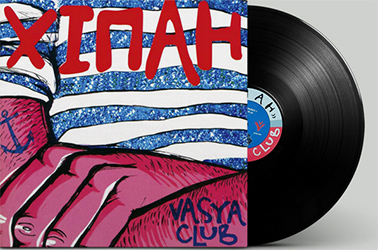 An anniversary  (10 years since the release) re-issue on vinyl of one of the most prominent Ukrainian rock albums. For the sake of this release, complete re-mastering of the material from the original master tapes was performed – and the original author design was restored.
German pressing using "Lacquer Cut Mastering" analogue technologies ("SST Bruggemann" studio, Frankfurt): Vinyl LP (Audiophile Classic, black, 180 gm, lacquer mastering).
Limited edition! 150 copies. Special offer: free shipping (...)
"Do you like rock'n'roll? Then, what about the rock'n'roll served with a delicate sauce and piquant spices? From the morning till night and again, till early morning? As an alternative to a rendezvous with a girl friend (a boy friend)? As a supplement to a rendezvous? As its main content? As a means of perception of a surrounding reality with a smile? Sorry, what did you say? The ground for getting up in the morning energetically, notwithstanding a hangover? The ground for tasting four portion of hitchhiking, or some more of it? To dance on the stone paving barefooted? To catch May rain and big snowflake with your tongue? So that not only drive, but also the thoughts should be colourful? So that the smiles could appear not because of strong drinks but because of satisfaction? In the underground, at work, in a car, in a coffin, in the bushes, under the water and in the skies? So, do you really like rock'n'roll? If not to create, then at least to listen to? Sorry, what did you say? To serve it to you right into the bed?"
Anton Yozhyk Leyba (Hedgehog)