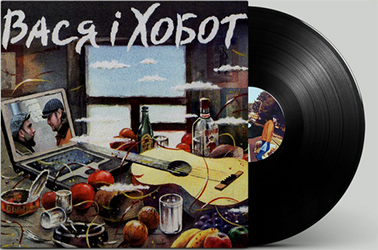 German pressing
(Schallplattenfabrik Pallas GmbH), heavy black 180gr vinyl, HQ Audiophile LP. Vasyl Hontarsky's solo album. Acoustic variations on the theme of the most famous pieces by
"Vasya Club"
, folk songs and rowdy cover versions of hits by Eric Clapton, Tom Waits and Goran Bregovic. The album was recorded with Robert Plant's favorite and the owner of the title "The Golden Contrabass of Ukraine" Yuri "Hobot" Galinin, as well as with musicians from the bands
"TNMKongo"
(Vitold Korzhenko) and
"Er.J.Orchestra"
(
Viktor Krysko
).
Limited edition! 150 copies. Special offer: free shipping (...)
"So. The album is really queer, its style is "for one's soul". To the question "for whose one?" we answer: a hippie's one, whatever this word may mean. Nobody here strikes a pose, tries to prove anything to anyone, shaves or avoids tabooed lexis (attention!). Something different takes place here – a "session" for the sake of "session", even though in the empty "flat", and a bottle of beer as the closest friend. At least, it is within the reach. It is a man's dialogue with the air, when the woman has already left, but her image is still melting in the mirror. The day has nevertheless begun – you are surprised but alive and somehow even healthy, at least, so it seems. It snows in the northern window, the western one is wet with fog, the southern one has burned down. And you are in the middle of all that – what other explanations do you need? There is nothing. A hangover philosophical song."
Anton Yozhyk Leyba (Hedgehog)