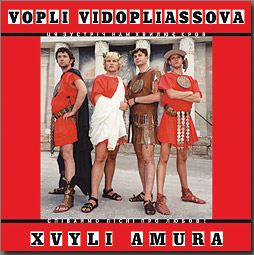 German pressing
(Schallplattenfabrik Pallas GmbH), heavy black 180gr vinyl, HQ Audiophile LP. The third studio album by "VV" (2000) contains the hits "Den naroDJennya", "Buly na seli", "Lyubov", "Vidrada".
Limited edition! 150 copies.
"It's hard to say what exactly attracts the audience: whether it is the energetic Ukrainian music, or the beautiful lyrics, or just the charisma of Oleh Skrypka. But the fact that "VV" musicians are super popular causes no doubt. On this album – the further development of the group after the two first studio releases. Maybe, someone liked "VV"'s old hits more, but it is nice that the musicians do not stay in one place and always discover something new for their fans."