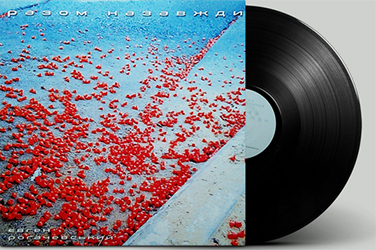 German pressing
(Schallplattenfabrik Pallas), heavy black 180g vinyl, HQ Audiophile LP.
Special offer: free shipping (...)
This is now the second solo album by Evhen Rohachevsky – the first one was released around 2006, when he had been a participant of Vopli Vidopliasova for a couple of years already. Well, and that seemed, by and large, as a joke, a gesture, where there was something of punk, and of circus – but above all of nostalgia. This time there is a flavor of nostalgia as well – but absolutely different one. In terms of the sound, one would call this album, quite unexpectedly... a collection of romantic songs. The manner of performance, the melody pattern are somewhat reminiscent of Ukrainian – and not only – "vocal and instrumental ensembles" of the 1970s-80s: there was in that music a sort of sunshine, innocent, trusting openness to the world (well, maybe except for the tragic songs). Here – the same. Nobody knows how Evhen managed to create (re-create?) that atmosphere – but he has succeeded. This is captivating. Not often can one hear a fresh album and have the feeling that an easy smile rises within you – and here you have the chance. It's even surprising, not quite clear – but it works. Try for yourself – what if it will work for you too?