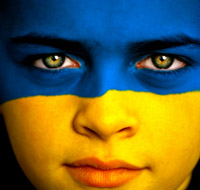 So, 30 years of Independence.
We seemed to have grown up – but now there are questions.
The hardest part seemed to be behind us – but now there are questions.
We seemed to know what and how well – but now there are questions.
In the end, that's good.
Too often, there are ready-made answers where there is no willingness to learn.
Ukraine is learning – it's obvious.
Saying that it is easy would not be true.
The youthful all-or-nothing, denial, fear – let it be. But inspiration, thirst for knowledge, power, and, most importantly: self-awareness – awareness of the self. This awareness becomes a bit broader and deeper every day. It may not be happening as fast at the national scale as it was ideally expected – but it is happening. Inevitably. Irreversibly.
And so be it.
Because no one will grow up for us.
Let's rejoice.
Glory to Ukraine!
...and in order not to leave the greeting unfounded – in fact, the tradition is to offer presents on holidays – we announce full sale: http://umka.com/eng/news/independence-day-special-offer-for-all-20-discount-8.html