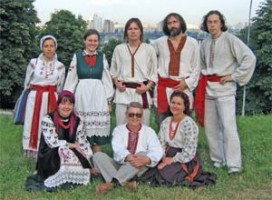 Drevo
at the time:
Yevgen Yefremov, Olena Shevchuk, Hanna Koropnichenko, Tetyana Sopilka, Hanna Ohrimchuk,
Serhiy Okhrimchuk
, Yurij Pastushenko, Nataliya Serbina, Valerij Stupnyts'kyj, Dmytro Polyachok.
The Drevo folklore group is an ensemble of researchers and performers of Ukrainian folk music. Exists since 1979 (under the present name — since 1988). Artistic Director of the group — ethnomusicologist Yeugen Yefremov. With its both investigating and performing activities the Drevo has started a new line in a musical culture of Ukraine, having demonstrated traditional rural music of Ukrainians as original, valuable and distinctive artistic phenomenon that does not require any special arrangement. Students, graduates and lecturers of Kyiv National Musical Academy — the participants of the group — were the first in Ukraine to set themselves a complicated goal of deep perceiving, practical adopting and true representation of folk songs, preserving regional stylistic features of the traditions being investigated, and keeping them in the Drevo singing. The active professional field and scientific-research work of the group participans in the areas of Central and Western Polissia, left Bank of the Dnieper region, Eastern Podillia has become the main scientific basis and a source of the Drevo original repertoire.
information, photo from official site:
http://drevo-folk.kiev.ua/