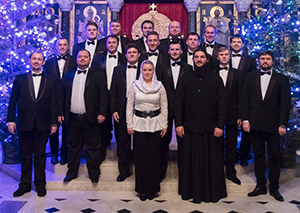 The AgiaDimitra male choir of the Kyiv St. Vvedensky Holy Monastery is a professional choral collective guided by Lyubov Onyschenko.
The AgiaDimitra choir received its name (in Greek "Αγία Δημητρα" means "Holy Dimitra") in honor of Venerable Dimitra of Kyiv (1810-1878), the founder of the Kyiv Holy-Vvedensky community.
In a fairly short history of its existence (the first rehearsal of the collective was on the 22 March 2016, the day of St. Dimitra's commemoration), three albums were released: "The Theotokos, let us magnify in songs", "Kolyada" and "Let God Arise".
The repertoire of the AgiaDimitra choir is unique: the processing and harmonization of ancient monastery tunes, as well as the original chants of the contemporary Ukrainian composer Leonid Pravdyn. Textured saturation, the widest range and dynamic scale require the performers to have the highest level of vocal technique, and the artists of the collective do it perfectly well.
Leonid Pravdyn is a modern Kiev composer. He began his work as a composer in the framework of liturgical writing for the monastery choir of the Kyiv St. Vvedensky Holy Monastery. Fruitful cooperation with this team has brought Pravdyn's talent to a whole new level. To date, concert programs that are created by Leonid Pravdyn and the AgiaDimitra male choir are a model of bright, dynamic in terms of character and means of music expressiveness, which is perfectly perceived by listeners of different categories – both "simple" parishioners and professional musicians.