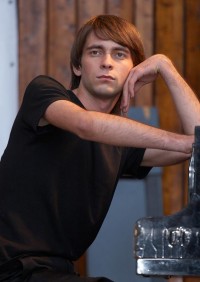 Alexey Bogolyubov
(Olexiy Boholyubov) was born 16 of march 1986, Krivoy Rog, Ukraine.
Music Education: 1995-2000 Piano Department of Music School (Krivoy Rog), 2000-2002 Jazz Department of Music College (Krivoy Rog), 2002-2004 Jazz Department of Glier Music College (Kiev), 2004 entered to (second year's) Jazz Department of Chaikovskiy Music Academy (Kiev) and 2008 finished.
Since I have moved to Kiev (capital of Ukraine). Took part in jazz jam-sessions of the most known Ukrainian jazz club "44". There was well-known Ukrainian jazz group
Skhid-side
as a stage band of this club. Owing to sessions with them I studied to play jazz. Later I was invited in jazz projects of this club. Three years ago I created the trio. All this musicians are much more senior than me. Drums - Sergei Tabunshchik and Double-bass - Valentine Kornienko. Now I play in
"Solominband" (DomRa)
(
Victor Solomin
- domra - as a leader). Take part in project:
Jean-Pierre Froehly
Jazz Power,
Mlada
, High Light Quadro... was playing with musicants - vocal: Gregory Porter (USA), Johnaye Kendrick(USA), guitar Hiram Bullok (USA)... saxophone - Goetz Gruenberg (Germany), Byorn Frank (Germany), guitar -
Jean-Pierre Froehly
(Germany),
Andrew Valentine
(USA-Ukraine), drums -
Alex Fantaev
( Izrael-Ukraine). 4 personal studio sessions with musicants: Andrew Valentine, Sergey Tabunschik, Alex Fantaev, Oleg Markov, Konstantin Ionenko, Valentine Kornienko, Bogdan Gumenyuk, Max Dmitruk. I have recorded first original album "My Cool & Crazy world" with trumpet Denn Adu, Alexey German, saxophone: Vladimir Lebedev, guitars:
Vladimir Shabaltas
,
Sergey Ovsyanikov
, Vladimir Voshkolup, bass: Konstantin Ionenko, drums: Alexandr Murenko, Sergey (Sangit) Tabunschik, Alek Fantaev.
information, photo from:
http://www.myspace.com/alexeybogolyubovtrio