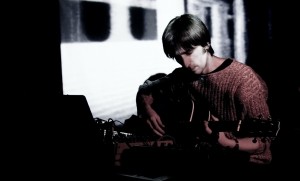 Andrey Kiritchenko
: born in 1976 in Kharkiv / Ukraine and started his musical activity in 1991 as a singer, song-writer and guitar player in a rock band. Active in fields of electronic music since 1996 as a radio dj in weekly radio show "Vilna Zona" dedicated to techno music. In 1997 he was co-founder of weekly TV Show "Vilna Zone" and later was working as a dj in local clubs. In 1998 he began making electronic music under "Sidhartha" moniker and in 1999 started "Nihil est excellence" ("NEX") 3 persons band to explore an interplay between analogue and digital music. Later however, music of NEX is shifting to musique-concrete, electroacoustic and drone genres. In 2000 Andrey starts Nexsound records - a platform for releasing experimental music from Ukraine. Since 2002 he is working under his own name and exploring microscopic sound design and post-digital production. Since 2004 Andrey is a cross-genre experimental sound artist combined acoustic and digital aesthetics, tiny melodies and noise.
So far, under all aliases he released around 30 albums on labels such as Staalplaat, Ad Noiseam, Zeromoon, SPEKK, DTA, Retina-Scan, Thinner/Autoplate, Notype/Nishi, Soulworm, FGLC, WAN, Tiln, Nexsound and has over 20 compilation appearances on labels all over the world; collaborations with Francisco Lopez, Kim Cascone, Jonas Lindgren, Jeff Surak, Kotra, Mantichora, the Moglass etc., remixed by Andreas Tilliander/Mokira, Frank Bretschneider, Mikael Stavostrand, Frans de Waard/GOEM, Brian Lavelle, Scanner, Marcus Maeder and 833-45, nominated as "the best Ambient artist" by DasMusik.net in 2002. In 2003 together with Jeff Surak and Jonas Lindgren created Critikal project. Performed live on Ultrahang festival / Hungary, ELKA festival / Belarus, Holy Ice, Noise & Fury / Russia, Information Wants to be Free, GARAGE, Being the Future and Club Transmediale / Germany, Ambient, WEF and Unsound festivals / Poland, RX:TX / Slovenia, RIXC / Latvia, DZ / Ukraine and others. Toured through France, Netherlands, Spain, Sweden. Performed at VPRO radio / Amsterdam / The Netherlands and Radio BIS / Warsaw / Poland.
In 2006 Andrey Kiritchenko nominated by Qwartz Electronic Music Awards in categories Discovery and Most Promising Artist. Awarded in category Discovery.
Andrey Kiritchenko makes a soundtrack for a sculture (art object) by US based artist Dzine for the 52nd International Art Exhibition in Venice which will open to the public on June 7-10. The art-object is a lowrider bicycle. Kiritchenko will make a DJ set with Ukrainian contemporary electronic and traditional folk music on the exhibition opening inside of another sculpture - a boat that will reflect the classic lowrider feel set in contemporary color tones of blue, yellow and gold.
information from:
www.nexsound.org