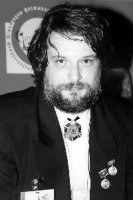 Andriy Shkurhan
. Ukrainian baritone. Born in 1961 in Sambor near Lviv. His first singing lessons were with his father, the great baritone Semen Shkurhan. He is a graduate of the Chernivtsi University (mathematics) and the Lviv Conservatory, where his teachers included Igor Kushpler and Zinaida Maksymenko. He has worked with Polish opera houses and concert venues since 1991. He is a prize-winner of vocal competitions, including the 1st
Salomea Krushelnytska
International Festival, Lviv 1988 (2nd prize), the Mykola Lysenko International Competition, Kiev 1988 (3rd prize), the 4th Ada Sari International Vocal Competition, Nowy Sącz 1991 (1st prize), the 37th International Vocal Competition, Toulouse 1991 (2nd prize), the 1st Stanisław Moniuszko International Vocal Competition, Warsaw 1992 (2nd prize), the 5th Adam Didur International Competition, Bytom 1994 (1st prize), the 3rd M. Helin International Vocal Competition, Helsinki 1994 (4th prize), the International Vocal Competition of Italian Opera, Berlin 1996 (3rd prize), the 1st Lauritz Melchior International Competition, Copenhagen 1996 (1st prize), the 36th Voci Verdiane International Competition, Busseto 1996 (3rd prize), the 15th Belvedere International Competition, Vienna 1996 (3rd prize).
He was a soloist of the Teatr Wielki in Łódź in 1991-1994, and in 1994 joined the Wrocław Opera for one season. He worked with the Silesian Opera in Bytom in 1993-2002, and was its resident soloist in 2002-2005. In 1991-2005 he also worked with the Baltic Opera in Gdańsk, the Opera in Szczecin, the Kraków Opera, and Opera Nova in Bydgoszcz. At the Teatr Wielki in Warsaw in 1995-2002, he appeared in the title roles in the premieres of Tchaikovsky's "Mazeppa" and Verdi's "Rigoletto", and was also Escamillo in Bizet's "Carmen", sang the title part in Verdi's "Nabucco", was Janusz in Moniuszko's "Halka", Sharpless in Puccini's "Madame Butterfly", Germont in Verdi's "La Traviata", and the Sword-bearer in Moniuszko's "The Haunted Manor" directed by Mikołaj Grabowski. He has given many performances and recitals abroad, including Austria, Belarus, Belgium, Denmark, Finland, France, Germany, Italy, Latvia, Luxembourg, Martinique, Moldova, the Netherlands, Romania, Russia, Switzerland, and Ukraine. In the spring of 1992 he appeared in the United States (Buffalo and Detroit) in the title role in Szymanowski's "King Roger".
His repertoire includes more than 50 leading opera parts, and over 300 works of chamber music, cantatas and oratorios, lieder, and popular pieces. For Prescription of New York, he has recorded arias from Verdi's operas, works by Górecki, and Ukrainian folk songs he arranged himself. In 1997 he gave a recital of songs by Ukrainian, Polish and Russian composers at the Music Festival in Aarhus (Denmark), broadcast by Danish Radio all over Scandinavia. In the same year he appeared at the Danish Royal Opera in Verdi's "Falstaff" (Ford). He has sung the parts of Rigoletto and Escamillo at the Latvian National Opera in Riga.
He was awarded a Silver Medal for contribution to Ukrainian culture and received the title of Distinguished Artist of Ukraine in 1998, and in 2000 - the Taras Shevchenko National Award of Ukraine and Ukraine's international St. Nicholas Award for his work to consolidate friendship and good-neighbourly relations between Poland and Ukraine. In 2006 he received the Cross of Archangel Gabriel Sign of National Respect and the title of Honorary Citizen of Kiev.
At present he lives and works in the Czech Republic, being a soloist of the Silesian Opera in Opava and the Anton Dvořak National Moravian-Silesian Opera in Ostrava as well as working with Národní Divadlo and the City Opera (Státni Opera) in Prague and the Leos Janaček Opera in Brno. After a few years away, he returned to the Polish National opera to sing the title part in Verdi's "Nabucco" (March 2007).
information from:
http://www.teatrwielki.pl/ludzie.php?action=search&full=1&id=682&nlang=en
photo from:
http://www.day.kiev.ua/42629/