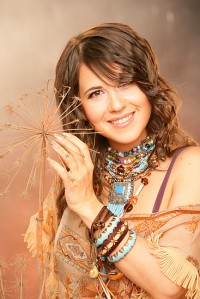 Anzhelika Rudnitskaya
's musical career begins in choirs, brass bands and children ensembles. After Anzhelika graduates the university, her musical career comes to a stall for a while. She becomes a journalist and creates her unique musical world for the television – "Territoriya A". Although it is called a hit parade, it rather resembles what would later become the "Star Factory". Her project helps to light new stars and support the existing ones. This television project is rapidly becoming mega popular.
At the same time Anzhelika is recording and singing in various group projects. In 2000 she finally makes a step up in her solo career. In 2002 the world sees her album "Bud' zi mnoyu", and she also starts working on two new projects. The music is something different from what has been expected, it is deep and tender, with light hints of jazz. When talking to the press, Anzhelika says that she wants to sing what she likes, but not what the mainstream demands. Eventually, this approach succeeds. In 2004 Anzhelika tours East Europe with a new French project, and her album "Lamour" is issued in Russia. Same year Anzhelika experiences a personal tragedy – she is bedridden for a year. During this extremely hard period Anzhelika reveals wonderful artistic abilities. Arts critics vow the ethnicity and deep perception of the world in her works. Somebody says that Anzhelika has created the iconostas of the Ukrainian genetic memory.
Her works are unique in their own way. Archaic symbols in them are deeply intertwined with the contemporary view of the world. Many see these sacral images as a new art style. During the period of two years Anzhelika has ten personal exhibitions. After recovery we also find a new singer in Anzhelika. A very tender and lyrical album "Znaidi Mene" is issued. The French project, planned for the beginning of 2008, appears to be contradictory and bright, full of the wish to live and feel the life. In the nearest future we expect the fifth album full of new and unpredicted music, which will be issued in the Ukranian language.
Anzhelika Rudnitskaya today is three constantly fighting and bound together persons (that's probably the way a Gemini is supposed to be). She is a journalist (essayist, writer and TV-person), an artist and a singer. Does any of these three prevail? She usually answers: "I am Anzhelika Rudnitskaya!"
information, photo from official site:
http://rudnytska.com/