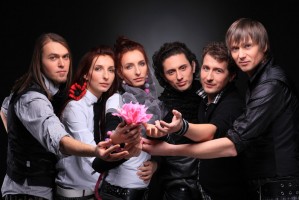 The name of
"AtmAsfera"
contains two words, "Atma" which translates as person or soul and "sfera" which means sphere or the space that surrounds a person. So AtmAsfera refers to the relationship between a person and their external and internal world and feelings.
It is perhaps hard to believe now but AtmAsfera began their journey as an art-rock band. Their first album was released in 2006 and has recently become a sensation amongst fans. Back in those art-rock days the band members would experiment between rehearsals and developed a sound that is very similar to their present style. Friends and family during that era were blown away by what they were hearing and after some persuasion Atmasfera began to introduce their new songs at gigs. The result exceeded all expectations, the new ethno sound impressed fans and the band members were excited. AtmAsfera's music continued to evolve and slowly moved away from the art-rock scene into folk and ethno, leading to the next album "Forgotten Love".
Today AtmAsfera's music is a mixture of folk, ethno, rock and instrumental with modern elements. Their music can't be labeled as one particular style as it is a dynamic expression of their feelings and emotions.
The musicians and their instruments:
AtmAsfera perform live with more instruments than a small orchestra. Beside the main instruments they use various styles of flute, different persuasions, chaymsa, trembita and a variety of other instruments from around the world which many musicians may not even be familiar with.
Nastya Yaremchuk – flute, vocal
Yulya Yaremchuk – keyboard, vocal
Andriy Shadiy – mandolin, saxonet, flute, vocal
Andriy Cherkasov – bass guitar
Timur Gogitidze – drums, darabuka
Misha Puziurin – acoustic guitar
A brief history of the band:
During the summer of 2003 the Yaremchuk twins met Andriy Shadiy. Although all were established musicians from the city of Lviv, fate brought them together in sunny Crimea where the trio jammed together for hours on the shores of the black sea. The three musicians returned to Lviv with a strong desire to continue playing together, named their band AtmAsfera and started looking for other musicians.
Over the next few years band members came and went, a bold decision to move to Kyiv in 2005 led to the addition of two local musicians, bass guitarist Andriy Cherkasov and violinist Sasha Goncharuk. In 2007 percussionist Timur Gogitidze joined the band and recently guitarist Igor Sas was replaced by Misha Puziurin. Although Igor and Sasha are no longer active band members they still have a creative input into AtmAsfera's music.
information, photo from the official site: http://www.atmasfera.com/