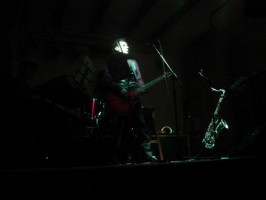 Biblioteka Prospero (means "Prospero's Library" in Russian) — the group that lives and works in Nova Kahkovka and Kiev, Ukraine.
As the real library, Biblioteka Prospero contains the endless and compact at the same time the whole world of the thoughts and ideas, the symbols and traditions. Sometimes these things are combined, but most often they are paradoxal and contradictory.
In 1999 Juriy Samson have decided to realize his "out-of-rock tradition" ideas. It was the birth of concept of Biblioteka Prospero as an open and amorph "brotherhood" of the musisians, artists, writers etc. That's the project were the Word, the Sound, the Ritual are forming the solid communication system, that builts into the casual human life & creates the "modern mythology".
In 2000 the duo of Juriy Samson (voice, flute) and Liudmila Kutzenko (piano), Biblioteka Prospero had a live debut on the "Evening Of Athmosphere" in Odessa. The live recording of this performance named "Martyr" was released on Quasi Pop as very limited CD-R edition.
The next album "Zhertvy Nimis Sero?" ("Victims of Nimis Sero?") was the experiment of studio adaptation of the rithual material (voice and field recordings).
Next step of Biblioteka Prospero was the writing, composing and studio recording of the trilogy "Sad" ("The Garden" in Russian).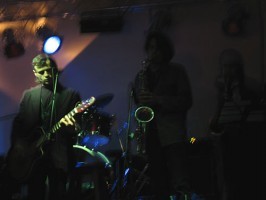 The first chapter called "Sad: Zvery, Oblaka and Echo Ritualov" (The Garden: Beasts, Clouds and the Echoes of the Rituals") was recorded in 2004 using voice, acoustic guitars, piano, alto-violin, flute, wooden and metallic percussion etc…This is more song-oriented work of Biblioteka Prospero comparing to the previous records, probably in the field of "psychodelic neo-folk" or even "anti-folk". But since last few months the group members describes genre of "Sad" as "Re-Folk".
At the moment Biblioteka Prospero as a duo of Juriy Samson (voice, guitar, piano, programming) and Edward S (programming, audio-processing, analogue synth, turntables, field recording) is working on "industrial suite" called "Askeza".
Also, the minimal-piano project "Potamophilus" is almost ready as well as second and third parts of "Sad", & some other non-realized projects.
http://quasipop.com.ua/artists/1/
photo from official web site of the group: http://www.biblioteka-prospero.com/
Unofficial web-site: http://www.prosperolib.org.ua/