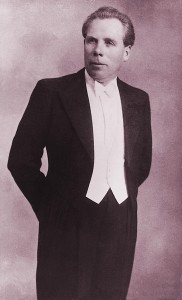 Borys HMYRIA. Opera and chamber singer.
He was called "Borys the Great", his talent was considered miraculous, his voice was regarded to be a perfect bass, and his vocal mission was believed to be ideal and unsurpassed by anyone up to date. People's Artist of the USSR (1951). Winner of the State Prize of the USSR (1952). Holder of the Order of Lenin (1960)
Borys Hmyria was born into a poor family in Lebedyn Sumy region. After leaving a primary school, the 11-year old boy had to work. He earned his living doing odd jobs. In 1930, he entered Kharkiv Civil Engineering Institute and, later the Kharkiv Conservatoire. He took vocal classes from a well-known teacher P. Holubiev, who was a follower of the famous Federico Bugamelli. At the same time, he started to perform on the stage of the Kharkiv Opera Theatre. The unique artistic individuality of the virtuoso was shaped by the best samples of the Ukrainian, Russian and world music culture. Characteristic features of the performing style of Borys Hmyria are profound psychologism in presenting the expressive content of a musical work, good articulacy, exceptional artistic talent, exquisitely polished details, striking self-control, and high vocal and artistic culture. In 1940-57, the artist's creative life was linked with the Kyiv Academic Opera and Ballet Theatre named after T. Shevchenko. In Borys Hmyria's versatile opera heritage the central genre directions took shape, namely heroic epic, psychological and philosophic, and tragic. Among his best parts are Taras (M. Lysenko's Taras Bulba), Kryvonis (K. Dankevych's Bohdan Khmelnytsky), Susanin (M. Glinka's Ivan Susanin), Boris (M. Musorgsky's Boris Godunov), Salieri (M. Rymsky-Korsakov's Mozart and Salieri), Mephistopheles (C. Gounod's Faust), and Ruschak (H. Maiboroda's Milana).
B. Hmyria's repertoire included about 600 chamber vocal compositions, among which there are 75 arias and 545 romances of well-known Ukrainian, Russian and foreign composers, and folk songs. This rich vocal heritage is recorded on 200 gramophone records, which had been replicated over 120 times, circulations amounting from 100 thousand to 600 thousand copies. Today, it is possible to produce more than 50 CDs covering the singer's versatile repertoire. The creative heritage of the artist also includes 150 manuscripts of popular scientific and artistic articles, diaries, letters, musical notes, and scores with composers' dedications. B. Hmyria's singing can be heard in all countries of the world, on all continents.
His name can be proudly mentioned among such world-renowned singers as Maria Callas, Kathleen Ferrier, Dietrich Fischer-Dieskau, Feodor Chaliapin and others
information, photo from: http://www.borys-hmyria.narod.ru/