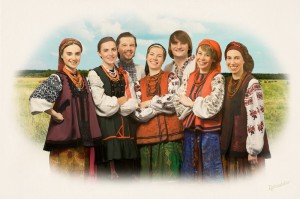 Folk Ensemble Bozhychi was founded on January 7, 1999.
The name of the group "Bozhychi" has 2 versions of origin. First is that it comes from the name of the pre-Christian God, which the Slavs called "Bozhycha", who was the god of youth and carol. The second is that the participants are "children of God", because in Ukrainian "Bog" ("Áîã") is "God".
The ensemble performs authentic, ancient songs and dance-instrumental traditions, parts of which were preserved in the villages and farms of Ukraine, all of which are dying off with catastrophic speed. The main direction of activity of the ensemble – the scientific study of the Ukrainian village and the method of recording authentic folklore samples. The main focus over the past four years has been collection trips made on canoe expeditions along the rivers of Ukraine.
For the right to receive nationally funded, organizational help for the activities of young folklorists of Ukraine, members of the ensemble started the initial creation of "The All Ukrainian Association of Young Ethnomusicologists".
The ensemble actively works in association with the Ukrainian Parliament in the areas of youth politics, physical education, sports and tourism, in the name of the State Committee, and the Ministry of Ukrainian Transport.
"Bozhychi" takes part in international tours and stage performances in Kyiv and Ukraine, as well as performing on television and radio.
Discography contains 5 audio albums, 1 DVD book on Ukrainian traditional dances with CD (2 in 1):
- The first album: "Rolled, oh, the clear star from the sky" – contains ancient Ukrainian songs and playing. Oleh Skrypka (leader of the Vopli Vidipliassova group) took part in record of this album and acted as its producer.
- The second album: "Koljadnitsky songs. From Kyiv to Jerusalem" – consists pagan and Christian songs of winter holidays – Kolyada (Christmas carols), Shedrivki and New year songs.
- The third album: "You Love Forever – And You Do Not Love Enough" gathered the best Ukrainian songs about Love and dances of traditional Ukrainian parties.
- 4th album – "Ukrainian dances. Part 1", recorded together with famous violin musician Serhiy Okhrimchuk.
- DVD "School of the Traditional Ukrainian Folk Dance. Part 1" is a book on Ukrainian traditional dances with CD (2 in 1).
- 5th album is called "Psal'mas. Pomyshliayte, Chelovetsy". It represents Ukrainian sacred world music.

In May 2002 in an associated project with the Center for Modern Art "Dakh" Bozhychi performed their theater piece "U Poshukakh Vtrachenoho Chasu" (In Search of Lost Time) at the "Wienner Festwochen" festival in Vienna, Austria. At this festival, "Bozhychi-Dakh" received the theater grand prize "Pektoral 2001" for the best chamber theater piece, and as well the grand prize from the theater critics of "Kyivan Rakhunok" for the best theater piece of the year.    
Now the ensemble plays in a theater performance "Az" directed by Andriy Prykhodko.
information, photo from official web-site: http://www.bozhychi.com.ua/