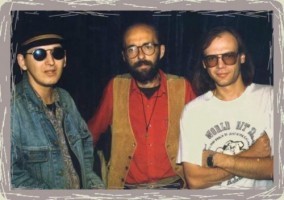 Braty Hadyukiny
, or simply
Hady
is a Ukrainian rock band from Lviv, one of the most successful Ukrainian bands of Soviet times. The band music style combines different genres such as rock'n'roll, blues, punk, reggae, funk and folk. Ironical song lyrics contain a lot of local vernacularisms, slang and surzhyk.
The band was active mainly between 1988 and 1996. In January 2006 they held a big solo concert in Kyiv which was a big event in Ukrainian media space and was visited by lot of famous people. After band's leader
Serhiy Kuzminskyi
(aka
Qzzaargh
) died in 2009 the big tribute concert was held in 2011, joined by prominent Ukrainian rock musicians such as
Komu Vnyz
,
Vopli Vidoplyasova
,
Okean Elzy
and others. In 2014 rest of band members released new album (the first one since 1996).
From
Wikipedia, the free encyclopedia
photo from the official site:
www.gady.com.ua