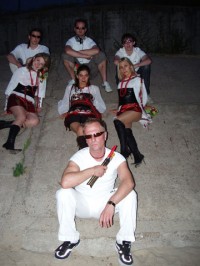 "I may be an old British punk, but at the same time I guess I am still a young Ukrainian", Yuri Baluk, the leader of the band CARPATHIANA once dreamt in his own borsch-time.
The debut of CARPATHIANA on the English stage was in 1996 together with the band The Ukrainians. Later on the band & dj Baluk have taken part in numerous festivals and solo performances in Britain, Spain, Poland and Ukraine (Lviv, Kharkiv, Dnipropetrovsk, Crimea, Kyiv). The previous albums of the band – "CARPATHIANA" (1996) and "LOVE" (1998) - were distributed in Ukraine, Poland & the U.K.
"CARPATHIANA stands out among the numerous dance world music performers by the fact that instead of the mere use of samples, the band performs all the ethnical parts live", the Polish music magazine "Plastik" characterized the first album of the band.
The leader of CARPATHIANA Yuri Baluk combines his performances within a band with solo DJ sets in the style of house, techno and drum 'n' bass on the club stage in Great Britain and Ukraine, in particular in the Palace of Sports (1998), the All-Ukrainian Festival "Rock-Sich" on the Trukhaniv Island (2006).

The leader and vocalist of CARPATHIANA Yuri Baluk was born in the Western Ukrainian city of Lviv, but already at the age of 5 his family had to emigrate to Great Britain. He grew up and studied in North England, but he preserved a great interest and enthusiasm towards the development of the Ukrainian culture, and in particular the development of music. He started by astounding his English friends by playing the Ukrainian pipe "sopilka" which seemed to be very amusing to them. Later, the public was amazed by his skills as a professional musician and DJ. He was putting a lot of efforts to disseminate the knowledge about the Ukrainian culture already at the time when his Motherland was just a part of the Soviet Union and in fact was unknown to most of the people in the UK.
However, Yuri Baluk by no chance can be called a typical representative of the Ukrainian diaspora. Unlike most of the post-war emigrants, he decided to devote himself not only to preserving the native culture abroad, but he was trying to create his own original modern music that combined modern music trends in the UK with the authenticity of Ukraine, in particular of the Carpathian Mountains that were so dear to him.
After the proclamation of the Ukrainian independence, Yuri Baluk started to make regular trips to Lviv, Kyiv and other Ukrainian cities. He performed with the band, and DJ'd at various clubs in Kyiv, L'viv and in the Crimea. In particular, he laughs all the time when he recollects his performances in the Crimea where the organizers of the concerts did not want to believe him that he really could never be bothered to learn Russian at all, and the musician had to communicate in English.
"It could be worse", says Yuri mysteriously.

information, photo from official site:
http://www.carpathiana.com/