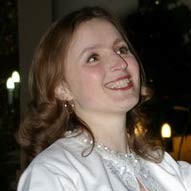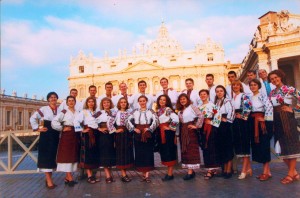 At the beginning of 1997 the Dominican Cathedra in Lviv began to serve its primary purpose Ц became the church of Holy Eucharist of Ukrainian Greek-Catholic Church. The same year a youth choir of the organization "Ukrainian Youth for Christ" got an invitation to sing in this temple. The choir sang its first Divine Liturgy on April 6, 1997 and since then the parishioners have been enjoying the spiritual singing of the young people. Its name
"Soli Deo"
the choir got from the inscription carved on the facade of the cathedral Soli Deo honor et gloria (Honour and Glory to the only God). Due to professionalism and talent of the permanent choirmaster and inspirer Iryna Mel'nyk for more than a decade the choir has became a one singing family where all members are united by great love to music, a song, and a common prayer.
Choir polyphony echoing in acoustic domes of Ukrainian churches has always attracted foreigners. Paul Alepsky, a Christian Arab, historian and traveler, a son of Antioch Patriarch Macarios, after visiting Ukraine in 1654-1655 wrote: "Nuns were singing and reading with pleasant and tender voices tearing my heart and moving me to tears: this was the singing so touching, so capturing the soul... We were fascinated by pleasant voices and singing..." A German economist Gaksthausen (1792-1866) recollected in his "Studium" "Ukrainians... they have a great gift for art, their clear voices, musical ear and memory are created for singing..." For many centuries the Ukrainian church has been the main center of musical professionalism Ц composers adopted folk polyphony and successfully combined it with the classical polyphony methods.
Having been cherishing the millennial traditions of Ukrainian church singing, the "Soli Deo" choir selects its repertoire from the rich palette of Ukrainian spiritual music which covers the best works of the Ukrainian composers. Among them are the parts from Liturgy and masses, cantos, in which deep dramatism, life-giving lyricism, faith and hope, joy and love are harmoniously combined through the Word and music...
(information from the polygraph of the CD)
on the photo - Iryna Mel'nyk (photo from:
http://www.lvivpost.net/content/view/4000/305/
)
official site, photo:
http://www.solideo.ucoz.ua/