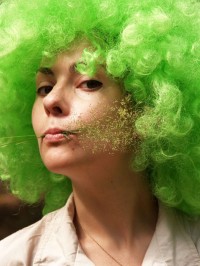 Maria Hmeleva has ended the Kiev Special Musical school of M. V. Lysenko (on a flute class - at teacher V. K. Turbovskogo) and national Musical Academy of P. I. Tchaikovsky (a class of the teacher of the O. S. Kudryashov). The winner of the international competition of chamber ensembles (Vorzel 1999г.) . Since 1996 actively gives concerts as the soloist when executes "the Chamber symphony №3 for a flute and a chamber orchestra" Ye. Stankovich (a premiere in Berlin). Plays suite h-moll I. S. Bach with success on a scene of the National Philharmony accompanied by an orchestra "Kollegium Musicum".
In 2002 goes on tour as the soloist with the State Chamber orchestra of Azerbaijan. In 2005 under the guidance of the conductor and the composer (USA) takes part in record of its author's disk and executes "the Sonata for a flute and to f-no" in transposition for a flute with an orchestra (the world premiere). Co-operates with an orchestra of National radio and the National symphonic orchestra of Ukraine. Is engaged in pedagogical activity.
Has her own music project CoMaha. Plays with Ghurt YOghurt from 2000.
information, photo from: http://www.ghurtyoghurt.com/pages1.html?id=1111&lang=1