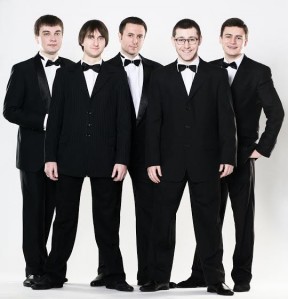 The vocal enseble
ConCord
exists since 2008. Nowadays the ensemble consists of
Oleksander Los (counter-tenor)
Sergii Bida (tenor)
Denys Krutko (tenor)
Oleh Pylyp (baritone)
Dmytro Savon (bass).
All members of the band are professional musicians, students or alumnae of National Tchaikovsky music academy of Ukraine. Singers perform jazz, folk, pop. They willingly experiment with including in the concerts elements of improvisation, actor's playing.
The vocal ensemble "ConCord" participated in several Ukrainian and the international competitions, festivals and TV-projects.
official site:
http://www.concordans.kiev.ua/