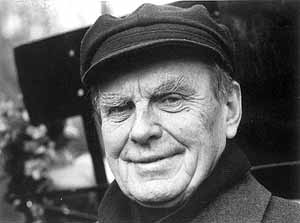 Czeslaw Milosz
was a Polish poet-diplomat, prose writer, and translator of Lithuanian origin. His World War II-era sequence,
The World
, is a collection of twenty "naive" poems. After serving as a cultural attaché for the Republic of Poland (1945–1951), he defected to the West in 1951, and his nonfiction book,
The Captive Mind
(1953), is a classic of anti-Stalinism. From 1961 to 1998 he was a professor of Slavic Languages and Literatures at the University of California, Berkeley. Milosz later became an American citizen. He was awarded the 1978 Neustadt International Prize for Literature and the 1980 Nobel Prize in Literature. He also was named a Puterbaugh Fellow in 1999. (...)
From
Wikipedia, the free encyclopedia
.
photo from:
http://firtka.if.ua/?page=891