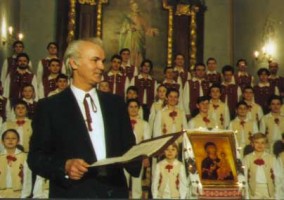 The capella choir
DUDARYK
was founded in 1971 by Mykola Katsal with the support of the Ukrainian Musical Association in L`viv, Ukraine.
In 1989 due to Mykola Katsal and his associates - Liubow Savtchenko and Lesia Tchaikivs`ka - the choir school was opened. It is the first choir school in Ukraine. For this purpose, the government gave to DUDARYK the building of the former St. Lasar Town Hospital.
DUDARYK gave more than 1000 concerts. It was awarded by the Prize of the Presidium of the Supreme Soviet of Ukraine (1983) and it is the Laureate of Taras Shevtchenko`s Prize (1989).
In 1977, only six years after its foundation, DUDARYK was among the finalists in the festival of children's artistic ensembles in the Soviet Union.
DUDARYK concert repertoire includes: choral concerts by D. Bortnians`kyj, A. Vedel`; "Carols and Epiphany songs", coruses of Ukrainian classics - M. Lysenko, M. Leontovych, K. Stetsenko, O. Koshyts'.
DUDARYK also performs cantatas "Stabat Mater" Pergolesi, "Carmina Burana" by K. Orff, symphony No 9 by L. Bethoven, "Rejoice, Field Broad" by M. Lysenko, "Caddish" L. Bernstain, "Subotiv" by R. Tsys`, "Messe D-majore", "Requiem" A. Dvorjak, "Requiem" A. Mozart, "Nelson Mess" J. Haydn, "Apocalypse" J. France, "La Terra Promisse" J. Masne.
The DUDARYK UKRAINIAN BOYS CHOIR from L`VIV, UKRAINE, has a long history of international concert tours. The first one was held in Vilnius, Lithuania in 1977 and 1978. On its annual international tours, DUDARYK performed in Latvia, Byelorussia, Russia, Georgia, Moldova and Ural. Since 1976, DUDARYK has participated regularly in international choir festivals in Estonia (1978, 1981, 1987, 1991), Hungary (1987, 1989), Poland (1991, 1992, 1994, 1995, 1997, 1998), Slovakia (1993, 1994, 1996, 1998), USA & Canada (1990), Switzerland & Austria (1993, 1995, 2000), France (1996, 1999, 2000).
Conductor
Mykola Katsal - the founder and the chief choirmaster of the capella. Born in 1940 in Hrechany, Podilya, the graduated from L'viv Polytechnic Institute (geodesy), L'viv Musical School and Conservatoire (conductor class). In 1989 he founded the first choir school in Ukraine. Now he performs the duties of the manager
information, photo from Dudaryk Choir web site:
http://www.dudaryk.lviv.ua/