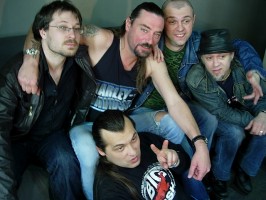 Sean Carr
– Lead vocals
Mick Lake
– Guitar, backing vocals
Bogdan Tarasov
– Bass guitar
Sergij Ozeryan
– Lead guitar
Volomyr Butiaiev
– Drums

When musicians from different countries and cultures get together and put their creative energy to a new project, it usually becomes very powerful…Well, this one definitely is…; ) Thus in January 2005 the DVS (Death Valley Screamers) rock band was formed. The experience of three Ukrainian musicians - Bogdan, Vladimir and Sergey (ex -"Lazy Town"), and of two British - Mick and Sean (ex-infinite number of musical projects), crossed. The band started with the old well-known rock and with the songs written by Sean and Mick 20 years ago – well, some things never change!
From the very beginning friends and irreplaceable helpers - Borsch band, always were there in the beginning and supported DVS in everything. The bands played together several joint concerts. The friendship came to its peak during the joint tour in February 2006, crowned by the hit "Far Far Away", which came 1st in M1's charts that winter.
Then DVS first solo concert took place and it got off!
In February 2005 the first album "Just Crazy" appeared. The album caused a great wave of interest among mass media representatives, critics and fans.
In the same year a 23-day tour took place, where during their stay in Donetsk Sean was proposed to take a closer look at miners' real life and to go down to the common for them depths. Sean didn't refuse ...
Miners work conditions made a strong impression on him and his experience later allowed him to reflect his strong feelings in his lyrics. He promised that the band would without fail write a song dedicated to miners of Donetsk, their non-real, life threatening literally deadly work conditions. Of course this song must have real miners in it. Friends from Donetsk have helped DVS to get together a choir made up of real miners. The result of the long work with orchestra and choir will be available at the end of August, when DVS is planning to devote the whole concert to miners on their Day.
During the friendly cooperation with "Borsch" the hit "Far Far Away" is recorded. The video was recorded at the newly designed terminal in Boryspil international airport and even on the runway at -20 degrees Celsius. During the first several weeks it hit the first in Ukraine's charts, the 12th place in Russia and the 8th in Israel. As a result of this the collection "Far Far Away", and also the video "No Reason to Hate" appeared.
On July 5th DVS have represented NEW album – BIG FISH! In support to the new album Crash Landing song got her visualization through video directed by well known Stekolenko brothers. Video can be seen now on several Ukrainian music channels. In the meantime video dedicated to the Donetsk miners is being shot.
History continues.
information, photo from official site: www.dvs-band.com