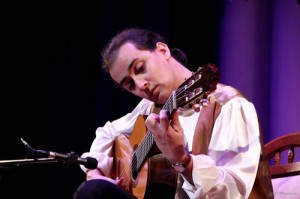 Eugen Sedko
, born in 1983 in Kyiv, Ukraine, where he studied and lives permanently. Started to play guitar from 1997 using audio recordings of famous guitarists.
Started to take part in concerts from 2004 with traditional flamenco group "Ayamonte" being a performer, composer and arranger. Toured in duet with guitarist
Volodymyr Stetsenko
. Summer 2005, is a prizewinner of the spanish guitar competition "Spanish themes" organized by Embassy of Spain in Ukraine.
In 2008 founded Flamenco Fusion Band from Kyiv and continues to work with it.
Performs music of well-known masters of flamenco guitar and his own compositions. Works with other styles of ethnic music such as gipsy, lautary, hindustani.
Director of flamenco and oriental concert programmes.