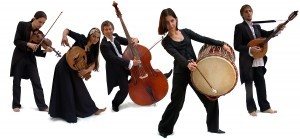 The
folk band Burdon
specialized first of all on perfoming Carpathian traditional music with a strong modern influences, but the roots of their inspirations are based on folklore from the whole Europe, through Scandinavian to Balkans.
The band was founded in 2002 in Lviv (Lwów, Lemberg), Western Ukraine with an aim to play music inspired by eastern european and carpathian folklore. We're using acoustic folk instruments for the best reproduction of atmosphere of old dances which didn't change through centuries. But our music is not a real authentic reflection, we play modern folklore. We don't invent any new tunes, we play old and often very famous ones, with our own arrangement and modern influences.
We've started from
nordic
folk music. Also the band is working upon european folk and old dance music. The range of our ethnic interests is not limited to a certain region only, so we play also Belgian, English, French & Italian tunes. And our latest interests includes traditional music of Carpathian region (Hungary, Moldavia and of course, Ukraine).
The band took part of the many festivals in Ukraine, Poland, Bielorusia, Russia, Germany and Hungary.
information, photo from official site:
http://burdon.lviv.ua/