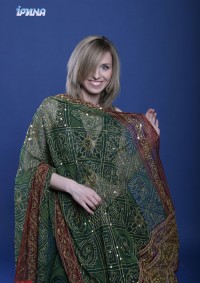 Iryna Shynkaruk
- it's the first Ukrainian name entered on the International Music Catalogue
She was born in 1979 in Fastov, Kyiv region. But her childhood she spent in Zhytomyr. For 7 years she has lived in Kyiv Iryna graduated from the Zhytomyr State Teachers' Training University, where she studied at the philological department, and the School of Art (chorus leader and conductors' department). The second heigher education she got at the National University of Culture and Art, and later she started to work there as a teacher.
At the four she started to take pyrping concerts with her father – Volodymyr Shynkaruk. In 1990 she the win her first music contest – "Zamkova Gora" /Zhytomyr/.
1991 - "Solomjanyj Dzvin" /Lutsk/ - First Prize 1991 - II Allukrainian Festival "Chervona Ruta" /Zaporozhje/ - Prize "The Hope" 1992 - IV Allukrainian Festival Author's song "Oberih" /Lutsk/ - Diploma 1993 - Allukrainian Contest "New Names" /Kyiv/ - Diploma 1993 - III Allukrainian Festival "Chervona Ruta" /Donetsk/ - First Prize 1993 - International Festival "Bilostotsky Malvy" /Poland/ - Grand Prix 1993 - Allukrainian Festival of popular Ukrainian music "Pisennyj Vernisazh" /Kyiv/ - Diploma 1994 - Training courses Warsaw operetta /Poland/ 1994 - V International Festival "The Voice of Asia" /Kazakhstan/ - Diploma FIDOF, Prize for the best song of the festival "Misiachny Oberih" 1997 - XIV The World Youth Festival /Cuba/ 1997 - Allukrainian rating popularity "Zolota Fortuna" /Kyiv/ - The best young singer of Ukraine 1998 - The World Festival christian young /Austria/ 1998 - III International Festival "The sea of Friends" /Yalta/ - Grand Prix 1999 - V Allukrainian TV Festival of the popular music "Melodia" /Lviv/ - Grand Prix 1999 - Volodymyr Ivasiuk Festival /Kyiv/ - Second Prize.
Six music albums: 1994 – "Ï'ÿòà ïîðà ðîêó" ("The Fifth Seasons of the Year"), 1996 – "ß – íà÷å ïòèöÿ" ("I'm Like a Bird"), 1998 – "Ïåðåêîòè-ïîëå" ("Step Towards the Summer"), 2000 – "²äó äî Âàñ" ("I'm Coming"), 2004 – "³ä÷óâàþ" ("I'm Feeling"), 2006 - "Öå ìîÿ ³ òâîÿ Óêðà¿íà", 2008 - "̳ðà".
Concerts for the broad: In 1994 at first shi visited five European countries – Hungary, Slovakia, Poland, Germany, Frence – together with the wines of "Chervona Ruta'93". Later Iryna's works were heard by the inhabitants of Austria, Greece, Kazakhstan, Uzbekistan , Cuba, USA, Libya.
As the specialists say, Iryna Shynkaruk opened a new stile in modern Ukrainian music – magic rock. At present in her repertoire dominants dancing music. She is recording a cappella songs.
information, photo from official site:
http://www.iryna.com.ua./