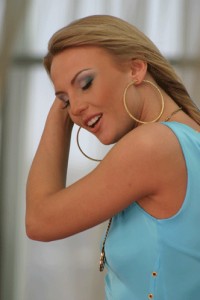 Kamalyia
was born in Zabaikallye, Chiting Oblast (region) in Russia. It is here that the girl started singing songs she heard from the home tape recorder.
When Kamalyia was three, her family moved to Budapest where the singer to be was dancing and singing at the vocal choreographic ensemble called Kolokol'chik (the Jingle). Then the family moved again, at that time to Lviv. To play violin Kamalyia was taught by Lyubov Davidovna Karnaukh, a very experienced and demanding instructor who has trained a lot of outstanding musicians and singers. Lyubov Davidovna also noticed the girl's mostly conspicuous voice timbre, insisted on developing vocal talents, and used any opportunity for Kamalyia to participate in performances.
At the eighth form of high school after one of the festivals, at which Kamalyia always won first places, the singer was invited to sing at a vocal ensemble called "Galytska Perlyna" (The Galych Perl). There she has been singing for one and half year. In 1993 15-year-old Kamalyia has become the laureate of The Chervona Ruta (Red Rue) Festival, then she was prizewinner of the TV-Chance-Stars contest that took place in Moscow. Afterwards Kamalyia started receiving invitations to concert tours. It was also then that the singer has developed a strong rare voice, four octaves of coloratura soprano. Experts advised her to continue her study at the conservatory to practice professionally classical music in the future but the girl determined to devote herself to variety art.
In 1997, Kamalyia graduated from the University of Culture and got a Degree in variety art and mass shows direction.
In 2003, Kamalyia successfully gave a recital in Pakistan and now she has many fans in that country. That is why in terms of Friendship of Pakistan and Ukraine Program the singer is now preparing for another recital in Pakistan where she will sing in English, Russian, Ukrainian, Urdu, and Turkish languages. Outstanding Pakistani performers and singers will also participate in this entertainment.
Since 1999, Kamalyia cooperates with the International Association of Professional Combats where she performs with her shows before openings of championships and before title combats.
At the recitals, Kamalyia tries to make the best of her every time giving a piece of her heart to her loved audience. Songs are her life, they reflect the state of her soul and variety art is the dream of her childhood. The audiences of many Ukrainian cities at which the singer performed estimated this at its true worth.
information, photo from official site:
http://www.kamaliya.net/