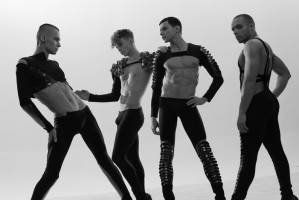 Kazaky
is a Ukrainian all-male synthpop dance group, made up of Kyryll Fedorenko, Artur Gaspar, Stas Pavlov and Oleg Zhezhel. Assembled in Kyiv in 2010 by Zhezhel, a skilled choreographer, the group has released two albums and several singles.
Kazaky's sound draws on house, synthpop, electronica and dance. Their tracks feature monotone, loopy, manipulated vocals and dance-driven, layered beats with electronic bleeps and prominent bass lines.
The band is originally made up of Kyryll Fedorenko, Artur Gaspar, Stas Pavlov and Oleg Zhezhel. The group's first single, "In the Middle", was released at the end of 2010, earning them the "Breakthrough of the Year" award at the 2010 Myway Dance Awards. The video features the four group members dancing in boy clothes at first, and then transitioning into a more androgynous look with their signature stiletto heels. It quickly went viral on YouTube. It was then followed by the video for their second single, "Love," shot in black & white, which furthered their online popularity. In June 2011, the group performed at the Dsquared Men Spring/Summer 2012 runway show. On 16 July 2011, they made their American debut at Club 57 in New York City, and performed their third single "I'm Just a Dancer" for the first time.
In August 2011, original member Pavlov left the group and was replaced by Italian singer Francesco Borgato. With this new line-up, they released two more singles, called "Dance and Change" and "Last night" until they released the group's debut album "The Hills Chronicles". In 2012, Kazaky are featured as cameo as background dancers in the Madonna music video "Girl Gone Wild".
On February 26, 2013, Borgato announced his departure from the group to pursue a solo career. Former original member Stas Pavlov rejoined the group immediately after Borgato's departure, and he is featured in the group's new track and video, "Crazy Law", released on March 4, 2013.
From
Wikipedia, the free encyclopedia
.
photo from the official site:
http://www.kazaky.com/